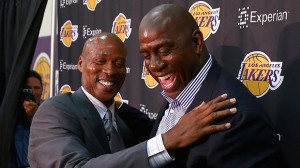 If the press could manage to be more optimistic about a team with a 40-year old point guard, a 36-year old shooting guard, and a new coach, who hasn't had a winning record since 2009, I haven't seen it (at least not lately).
New Head Coach of the Los Angeles Lakers Byron Scott: Welcome home!
Byron Scott Highlights:
Okay, enough pleasantries.
The Lakers are deep in a hole in a competitive Western Conference with a superstar who wants to win 1 more before he hangs it up in 2 seasons. Scott says, "[the Lakers] look at championships."
Scott signed a 4-year deal worth reportedly $17 million.
Good news for Scott, he'll have the time to develop something with this team, and he already has the patience and confidence of the Lakers Nation.
Bad news for Scott is that the Lakers signed Mike Brown to a 4-year, $18 million deal. Brown lasted 71 games. The Lakers then signed Mike D'Antoni to a 3-year, $12 million deal. He made it 154 games (2 seasons).
How long will Scott have the patience of the Lakers fans and the Buss family?
The only players the Lakers have under contracts as long as Coach Byron Scott are Nick Young (signed thru 2018) and University of Kentucky rookie forward Julius Randle (2018).
Steve Nash has finally proclaimed this will be his last season.
But, good news Lakers fans. Help is on the way with the signings of Ed Davis, Carlos Boozer, Jeremy Lin, and the resigning of Xavier Henry. Hmmm. I doubt Kobe Bryant is as happy as he claims to be about these moves.
At least Scott knows what he's gotten into. "We have some work ahead of us," Scott said in an interview this week.
That may be the understatement of the year. The Lakers have won 16 titles, but haven't really been in contention for one since they won their last title in 2010 (against Doc Rivers' Boston Celtics).
For a team that missed the playoffs by only winning 27 games last season, their worst season in Los Angeles, it will be a long road back to contention for the Lakers.
For Byron Scott, he's started a race against time to lead the Lakers back to Showtime.