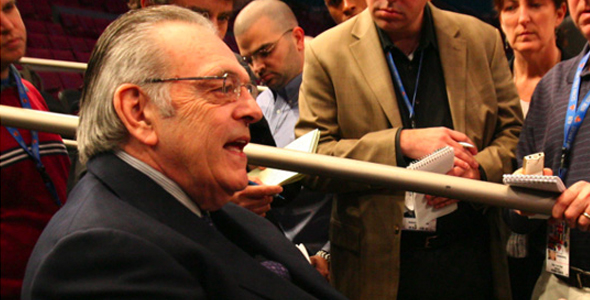 June 30, 2010 – Kevin Burke
Dear Donnie Walsh,
I hope all is well and that you are enjoying your summer so far. Big plans for the 4th? Well, anyways, I'm writing you this letter to discuss free agency. As you obviously know, the free agency period begins in less than 24 hours, although you won't be able to officially sign guys until July 8. As a Knicks fan, I just wanted to give you a fans perspective on what we would like to see. Not that it will mean much, but hopefully you'll take it into consideration to a degree.
First off, I completely understand the types of salaries that you inherited when you took over the team as GM a few years back. You wasted no time in immediately trying to unload those salaries for this very moment. That was your objective, and you did an excellent job of accomplishing that. Every time I turned around, there went another player. Gone. I did miss Zach Randolph and Jamal Crawford though. I really enjoyed watching those two guys, but again, I understood what you were doing. You were planning for this moment. While I get what it was all about, I hope you realize that you forfeited two seasons for a hypothetical situation. You did all of that with the hopes of landing LeBron and whoever else. My only reservation is that I never heard of a "Plan B" in the event that "Plan A" doesn't come to fruition. But as the GM of my team, I'll trust that you have it under control and that you wouldn't be gambling unless you felt good about the situation.
This offseason is big. Huge. Monumental. I'd even go so far as to say that it is bigger than the Finals were. People will be talking about this summer for years to come. We've never seen names like this available at the same time. You have some big decisions to make. It's a no-brainer that you'll first try to get LeBron James. Who isn't. At first I thought we were the front runner, but now it feels like every team is in play now. We have our work cut out for us. I understand you're meeting with him tomorrow, or sometime in the near future in order to try to convince him to come play in New York. When you do, try to sell him on the value of playing in New York and the team you can put around him. Don't try to convince him by using names like Donald Trump and Chris Rock. Why would that matter to him? He may laugh in your face. Try to avoid that. I know it will be tough to get him so I'll move on for now.
The second most coveted guy in this market is probably Chris Bosh. Newsflash: you don't need Bosh. You have a guy by the name of David Lee already on your team. And get this, Dave actually still wants to play for the Knicks. He told me himself. With Lee, you have a guy who is already familiar with the surroundings and organization. You have a 20 and 10 guy who is a very good player. The best part about Lee is that you can get away with not paying him a max contract, whereas you will have to give Bosh a max deal. Basically what I'm trying to say is that Dave will be just as productive as Bosh and will be cheaper. Sounds like a win-win to me. Let somebody else overpay for Bosh. So with LeBron and Lee, you still have room for another max deal depending on what you give Dave. I'm not completely privy to the full financial picture of the club, but hopefully I'm close enough.
So who else would I suggest? Glad you asked. A point guard would be nice. Since the season ended I've heard Tony Parker and Chris Paul trade rumors. I'll take Parker because he'll come cheaper. Oh, and I would also sign Tracy McGrady to a veterans minimum. You're good for it and he did say that he would return for the veterans minimum. Let's see if he really means it. That would mean that the core is LeBron, Lee, Parker and T-Mac. That should still leave some money left over for another decent player like a Ray Allen or someone like that. Or you could forget Parker and Allen and scoop up a Joe Johnson – but I repeat, you must keep Lee. Dirk would also be nice as LeBron's running mate, but under no circumstances do you give Dirk a max deal. And don't waste your time with Dwayne Wade. I don't think he's going anywhere. Why would he? He's in Miami and he already has a ring. Oh yeah, I'm also a fan of Amar'e for whatever that's worth. Maybe some of those combinations aren't financially feasible, but again, I'm just giving you options from a fans perspective.
The point in me writing all of this is to just remind you how important this offseason is. You're somewhat new to the team still so let me tell you that we've been clamoring for a winner for some time now. You enjoyed success in Indiana so I know you can do it. I have faith in you. Well, I'm sure you have a plane to catch so I'll let you go. We're counting on you. Take care and thanks for your time.
Regards,
Kevin Burke
If you're looking for your everyday, predictable basketball talk, then go somewhere else, because Kevin Burke of The Kevin Burke Project brings provocative, thought provoking content about basketball as only he can. Kevin also hosts The Hoop Doctors weekly podcast show, which you can subscribe too for free on iTunes.