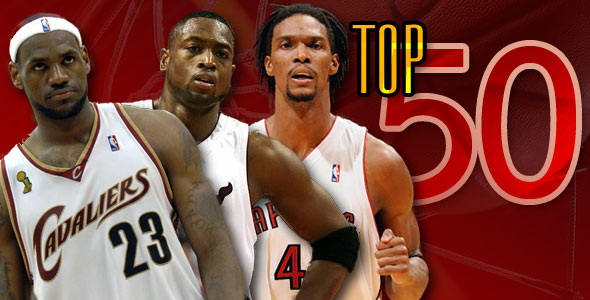 June 30, 2010 – Allen Moll
We have all heard about it.  We've all read about it.  After two years, the free agent frenzy during the Summer of 2010 is finally here.  Teams have been dumping salaries in an attempt to lure one of the many big fish in the rather large free agent pool come July 1st.  The colossal movement of players to new teams has the potential to change the landscape of the NBA for years to come as such high profile players like reigning 2 time MVP Lebron James, former scoring champion Dwyane Wade, '07 MVP Dirk Nowitzki, and even the tallest player in the game today, the 7'6 Yao Ming, will finally be free from their long term deals and are back on the market looking for the best deal available.  The question all throughout this past year was were would James/Wade/Bosh be playing hoops in 2011. 
We here at TheHoopDoctors.com have created our master list of the Top 50 Free Agents.  Please check back all Summer as we will update who signs where in order to help keep you on top of where your favorite player winds up for the 2010-2011 season.    
Ranking
Player
'09-'10 Statistics
Age
Physical

1.

SF

 

Lebron James

29.7 ppg, 7.3 rebs, 8.4 ast
26
6'8", 260 lbs
The NBA universe is at his feet.  Vitually every GM and free agent player are waiting to see where the game's best player will wind up, with the rest surely to to follow suit in a domino like effect.  He will change the fate of some lucky franchise who will be getting a walking triple-double, 2time MVP, an All NBA 1st Team defender, and a sold out arena for every home game.  Lebron has decided to opt out of his final year in Cleveland, but will he return or seek an NBA title elsewhere?  Other teams in the Lebron sweepstakes include Chicago, Miami, NY, NJ, and the LA Clippers. 

Signed: 6 years at $110 million with Miami Heat

2.

SG

 

Dwyane Wade
26.6 ppg, 4.8 rebs, 6.5 ast
28
6'4″, 215 lbs
As a former scoring champ and NBA Champion, Wade has proved he is a Top 3 player in the league.  Since he doesn't have much help in Miami, Wade has also decided to opt out of his final year with the Heat.  But unlike James, Wade is expected to re-sign with Miami and is already on the recruiting trail to help lure an additional 2 max free agents to South Beach now that the franchise is dumping salary.  Could we see Lebron and Bosh playing alongside Wade on the Heat?  It's possible but unlikely since both James and Wade need the ball in their hands at all times.  Could age and a history of injuries be a GM's concern when considering between James/Wade/Bosh?

Signed:

 Signed 6 years at $110 million with Miami Heat

3.

PF

 

Chris Bosh
24.0 ppg, 10.8 rebs
25
6'10", 235 lbs
The man-child once known as "Baby Bosh" is now a full grown man and will be earning a man sized paycheck by the end of this Summer.  Like James and Wade, Chris will also opt out of the final year of his contract.  As arguably the most athletically skilled power forward in the game, teams are clamoring to sign Bosh as the next face of their franchise.  Rumored to already have 1 or both feet out of Toronto already, he will almost assuredly be playing elsewhere next season.  Bosh may be willing to join either James or Wade, or both in Miami, forming what could be one of the greatest starting line-ups in history, for a chance at winning a title. Signed:

6 years at $117 million

with Miami Heat 

4.

 PF

Dirk Nowitzki 
25 ppg, 7.7 rebs, 42% 3PT 
32
7'0′, 245 lbs
It's hard to imagine Dirk in anything other than a Mavs jersey, but it became a possibility once he opted out of the last year of his contract.  Will Dallas GM Mark Cuban offer a max deal to the 32 year old Nowitzki?  If not, surely a number of teams would be interested in the 7 foot offensive juggernaut from Germany.  Even at his ever increasing age, Dirk stays in impeccable shape and is still one of the game's most dominating offensive players and big shot makers. Signed:

4 years at $80 million with Dallas Mavericks

5.

PF/C

Amare Stoudemire
23.1 ppg, 8.9 rebs,  1 blk
27
6'10", 250 lbs
The electrifying human highlight film known as "STAT" put in a good showing in the 2010 Playoffs, which undoubtedly will increase his stock this Summer.  While he has improved his once shaky jump-shot all the way out to 20 feet, concerns still remain about a supposed franchise power forward who struggles to grab 8-9 rebs/game.  With that being said, Amare is ferocious around the rim, loves to dunk on opponents, and thus will put butts in the seats wherever plays next season.  After being shopped then not re-signed the past 2 seasons by the Suns, it's looking more and more like Amare will be playing elsewhere.  But one has to wonder just how good Amare will be without Steve Nash's untimely assists?   

Signed:

5 years at $100 million with NY Knicks

6.

PF

Carlos Boozer 
19.5 ppg, 11.2 rebs
28
6'9", 255 lbs
Once considered an undersized power forward, Boozer has established himself as a high scoring, elite level rebounding 4 man, known for his blue collar work ethic and nasty demeanor around the rim.  Having long been rumored to be on the trading block after not opting out of the final year of his contract last season, Boozer is finally free, and will be rewarded handsomely this Summer.  Any new team that signs him can pencil in 20 points and 10 boards per night, even though he is only average defensively. With Utah already in possession of Boozer's replacement in Paul Milsap, and hamstung financially, Carlos is surely headed out of utah and remains as one of the prime candidates to team with Wade in Miami.    

Signed:

5 years at $80 million with Chicago Bulls

7.

SG

Joe Johnson 
21.3 ppg, 4.6 rebs, 5.9 ast
28
6'7", 240 lbs
No player on this list has taken a bigger hit late in the season than Johnson.  Once put in the category of James/Wade/Bosh, Johnson's stock has slipped mainly because of his horrific performance in the playoffs.  He has all the skills as an athletic scorer, rebounder, and distributor from the shooting guard position, but is probably now better off being signed as a team's 2nd option for next season.  With Atlanta probably out of the equation, New York, New Jersey, and even Cleveland, if Lebron stays, have been rumored as potential destinations.

Signed:

6 years at $126 million with Atlanta Hawks

8.

C

Yao Ming 
19.7 ppg, 9.9 rebs,  2 blk 
29
7'6", 310 lbs
Many people have forgotten about Ming, who remains as one of the game's most marketable stars and dominating big men, even though most of his career has been marred by injuries.  With a clean bill of health after sitting out the entire '09-'10 season, a resurgent Yao, playing lesser minutes, could once again be a franchise player for someone.  Will Houston tender a max offer to a 7+ foot post presence with a major history of foot injuries?  If not, a number of other teams just might like NY, NJ, Miami, or the Clippers.  Remember D. Wade won a title in '06 the last time he had an All-Star center. 

9.

SF

Paul Pierce 
18.3 ppg, 4.4 rebs, 41% 3PT
32
6'7", 235 lbs
Depending on how the Celtics roster moves forward this Summer, the Boston captain could decide to trigger his early termination clause in his contract, which allows his to void the final year of his contract.  With teammates Rasheed Wallace and Kevin Garnett mulling retirement and Ray Allen, Nate Robinson, Tony Allen, and Marquis Daniels all free agents, the 2011 Celtics could be decidedly different from the one currently contructed.  Questions about their head coach and GM possibly taking a leave or moving elsewhere may have Pierce looking to opt out in an attempt to land one more big contract now, rather than go through a rebuilding year and be an unrestricted FA next Summer. 

Signed:

4 years at $61 million with Boston Celtics

10.

SF

Rudy Gay
19.6 ppg, 5.9 rebs, 1.5 stl
23
6'8", 230 lbs
Last Summer, the Memphis Grizzlies laughed at Gay's demands of a $10 million per year payday.  Now it will be Rudy's turn to laugh after the ever improving SF had another productive season and is poised to make the All-Star team and is being considered for a spot with USA Basketball.  At only 23 years of age, Gay could be a superstar in the making considering he already puts up 20 points per night.  The Grizzlies can match any offer that teams offer but after feeling disrespected last Summer, Gay is likely to go elsewhere.  The LA Clippers, Washington, and Minnesota have been big time suitors. 

Signed:

5 yr – $82 million deal with Memphis Grizzlies

11.

PF

David Lee 
20.2 ppg, 11.7 rebs
26
6'9", 250 lbs
Having long been under-appreciated and underpaid in New York, Lee will finally get a raise and possibly a new home in 2011.  As one of the game's best rebounders, Lee was one of only a handful of players to average 20-10 for the entire season.  Lee would be a great 2nd option on a team with a scoring 2 guard because he will do all the dirty work that stat stuffing big men won't.  Look for him to be a hot commodity into August  once the bigger fish in the free agency pool make up their minds.

Signed:

6 years at $80 million – Traded to GS Warriors 

12.

PF

Kenyon Martin 
11.5 ppg, 9.4 rebs, 1.2 blk
32
6'9", 240lbs
Sliding under the radar this Summer is the fact that "K-Mart" also could trigger an early termination clause similar to Pierce.  Coming off of another injury plagued season and an ever increasing age, Martin's future may be at a crossroads.  Do the Nuggets re-sign Martin,whom they sorely missed in the playoffs, or get younger in free agency?  Remember, Denver is coming off of an early playoff exit after making it to the Wester Finals in '09.  Like it or not, some of the blame gets shifted towards Martin's injury for not advancing farther this year.  With that being said, when healthy he remains an excellent defensive player with a nasty streak on the boards, which many teams lack in today's NBA.  Since he is coming off of injury, Martin's best option is to stay with Denver, remain healthy, and be unrestricted next Summer.

13.

SF

Richard Jefferson 
12.3 ppg, 4.4 rebs
30
6'7", 225lbs
After an underwelming 1st season in San Antonio, Jefferson may decide to decline his player option for 2011 and become an unrestricted free agent.  He was ineffective to say the least and was a non factor in their postseason run.  For some reason Jefferson refused to use his athleticism and instead decided to rely on finesse.  Now hitting his 30's, can Jefferson regain his all around game and excellent defensive skills he was known for with New Jersey?  A change of scenery could be just what Jefferson needs as some teams will look to make him their 2nd or 3rd option if he opts out.

14.

PF

Luis Scola 
16.2 ppg, 8.6 rebs, 2.1 ast
30
6'9″, 245 lbs
The hard working, bruising Argentinian big man is a very under-rated player, especially in Houston.  Many teams this Summer would love to sign the restricted free agent to an offer sheet this Summer.  Every team needs a player like Scola and will be willing to offer Scola a good, but not great deal.  He will probably be hampered by his age since at 30 and not a superstar, he won't get a long term max deal, yet will still be in high demand.  With Carl Landry shipped to Sacramento and questions about Yao's return, Houston would be dumb to allow Scola to go elsewhere.  

15.

C

Tyson Chandler 
6.5 ppg, 6.3 rebs, 1.1 blk
27
7'1", 235 lbs
Because of injuries and re-occuring foul problems, Chandler has not lived up to the hype of being the #2 overall selection in '01.  After showing potential in his first few seasons, the Bulls rewarded Tyson with a 6 year monster deal back in '05, and was even a member of the '08 Olympics squad.  As recently as 2 seasons ago, Chandler was one of the games' best big men with averages of 12 ppg, 12 rebs, and 2 blocks per game.  But after playing in barely over 65% of games on three different teams over the last 3 seasons, Chandler is inexplicably considering opting out of the final year of his deal which would pay him $12.6 million in 2011.  If he opts out and is healthy, Chandler could get some looks as a shot blocker and glass cleaner, but not at more than his current contract.  If he is smart, he should make the best of his final year in Charlotte, remain healthy, and go in search of a new long term deal next Summer.  

Signed:

Traded to Dallas Mavericks

16.

SG

Ray Allen 
16.3 ppg, 3.2 rebs, 36%3 PT
34
6'5″, 205lbs
Ray showed us in spurts this post-season that he still belongs in the conversation as one of the game's best shooters.  Although now in his mid 30's he is nowhere near his All-Star yearly numbers, he is arguably still better than most starting 2 guards in the league and teams still respect the threat to go off for 20+ on any night, especially from behind the arc.  With it unlikely that Boston can afford, or are willing to re-sign Allen at a $10 million+ per year deal, he probably will be a key 2nd or 3rd option to one of the bigger name free agents this Summer.  Considering Boston possibly rebuilding, odds are that Allen will test free agency and has commented that he would like to finish his career closer to home with NY or NJ.

Signed:

2 years at $20 million with Boston Celtics

17.

SF

Channing Frye 
11.2 ppg, 5.3 rebs, 44%3PT 
27
6'11", 245 lbs
If he so inclines, Channing can decide to opt out of his final year of his deal originally signed with New York.  the time is right for Frye, who finally found his role for the Suns as a sharpshooting perimeter oriented big man.  Frye turned into a defense stretcher after nailing more than 43% of his shots from behind the arc.  He would be an excellent role player for a contending team as an explosive 6th man or extra long 2 guard.  One has to wonder how well he will fare without all of those wonderful Steve Nash passes if he leaves Phoenix.

Signed:

5 year – $30 million deal with Phoenix Suns 

18.

C

Shaquille O'Neal 
12.0 ppg, 6.7 rebs, 1.2 blk
38
7'1", 325 lbs
Long gone are the days of Shaq dominating games, but the former "Big Shactus", "Shaq Diesel", or whatever he is calling himself these days was actually more productive than his numbers indicate.  Even as he inches towards 40, he is still arguably better than at least half of the starting centers in the league, especially if you consider he averaged 18 ppg per 36 mins.  Although many consider his lone year in Cleveland a flop, what did everyone expect from a 350 lb space eater playing on the same team as Lebron, who earns a living driving through the paint.  Shaq has gone on record to reveal that he wants to play another 2-3 years and some teams will oblige him since he is still one of the NBA's most recognizable athletes.  In the right situation it wouldn't surprise me if his numbers went up slightly to 15-8-2.  If teams think he can stay healthy, Shaq has been quoted as saying he wants to go back home…….to NJ, to finish his career.  If not, he will get some 2 year offers.

19.

SF/PF

Al Harrington 
17.7 ppg, 5.6 rebs
30
6'9", 250 lbs
Coming off of one of the best seasons of his career, Al will probably be playing on his 4th team since '06 as a player which apparently nobody appears to have a position for.  Even though has the perfect built for the PF spot, Harrington continues to play as a 3, since he falls in love at times with the 3 pt shot, and struggles to reach only 7 rebounds per night.  He disagreed at times with coach D'Antoni's insistance on bringing him off of the bench and has had some injury woes.  As Al reaches age 30, and having played more than 23,000 NBA minutes, his decline is emminent.  He is among the group of straight from HS success stories, but like Garnett in Boston, the wear and tear of 12+ seasons are like a car's odometer reaching 100,000 miles.  Even though he could be playing on borrowed time, Harrington in the short term could be a decent 6th man if he accepts his role.  Remember, he once faked a back injury and refused to play in Golden State, only to pass a physical to begin his NY career.  I don't blame him, no one wants to play in GS.  Contending teams in need of an athletic 3,who can create and make his own shots, will give him a look. 

20.

SG

John Salmons 
19.9ppg, 3.3 ast,  1.1 stl
30
6'6", 207 lbs
Salmons never seemed to fit the system, early in his career in Philly, but has rounded himself into a nice all-around NBA player, and should garner a ton of interest once the bigger fish get signed.  Just ask Milwaukee how good Salmons was, after being traded from Chicago.  All he did was average a team high 20 ppg, to go along with 3 rebs, 3 ast, 1.1 stl, and shot 39% from 3.  As the poor man's Joe Johnson, Salmons is also a cheaper version than his free agency mate, and could be a sleeper come July 1st.  Not many fans think of John as a great player, but at age30, he could be a borderline All-Star, since he has averaged 18+ points for thelast 3 seasons.  Since it's doubtful that the Bucks have the cash to offer a multi-year deal, they surely hope he decides to play his final year at the $5.8 mil he is owed, although he would get more on the open market if he decides to opt out and become a free agent.  

Signed:

5 years at $40 million with Milwaukee Bucks

21.

PF 

Tyrus Thomas 
9.4 ppg, 6.2 rebs, 1.6 blk
24
6'10", 240 lbs
After disagreeing with virtually every coach and losing his starting job to rookie Taj Gibson in Chicago, Thomas played well in 25 games for Charlotte.  Perhaps it was coach Larry Brown's insistence on "playing the right way" or just a change of scenery that did him some good.  Now turning 24, it's time for Tyrus to develop into the Top 4 pick as he was drafted.  After 4 pretty average seasons, teams still covet athletic big men like Thomas in hopes they advance their skills to an All Star caliber level.  Tyrus' defense is still way ahead of his offense, which suits Brown's system to a tee.  As a restricted free agent, the Bobcats should look to lock him up quickly, or be forced to match a much larger offer sheet in free agency to keep him in Charlotte.

Signed:

5 years at $40 million w/ Charlotte Bobcats

22.

C

Brendan Haywood 
9.1 ppg, 9.3rebs, 2.0 blk
29
7'0", 260 lbs
Aftertaking awhile to develop early on in Washington, Haywood has worked hard on his game, and has made himself into a starting NBA center.  He finally knows his role as a dominating rebounder and shot-blocker and will get some serious looks from contending teams this Summer.  After coming over to Dallas in the Caron Butler/Josh Howard trade, Haywood's numbers slipped a little playing lesser minutes behind Eric Dampier.  As an unrestricted free agent, he could be a nice pick-up for a team looking for a defensive minded big man.  Because of reaching the 30 year old plateau, look for Haywood to sign a 2-3 year deal. 

Signed:

6 years at $55 million with Dallas Mavericks

23.

PG

Derek Fisher 
7.5 ppg, 2.5 ast, 35% 3PT
35
6'1", 210 lbs
Some experts ague that Fisher is the prime benefactor of playing alongside Kobe Bryant's incessant drives and kick outs within the triangle offense all of these years in LA.  It's hard to argue since, would Fisher have all of those championshiprings playing elsewhere?  Not to say that "D-Fish" is not a good player but he is hardly worth as much to other teams as he is to the Lakers.  The equivalent of a system quarterbackin football, Fisher at the venerable age of 35 is a shot-maker, even if he has trouble staying in front of younger and quicker defenders.  At this point in his career, he needs to have a good back-up to lessen his minutes, since he also isn't a prototypical PG.  Look for Kobe to lobby hard to keep Fisher in LA, in an attempt at a three-peat. 

Signed:

3 years at $10.5 million with LA Lakers

24.

PG

Allen Iverson 
13.9 ppg, 4.1 ast
35
6'0", 185 lbs
He's baaaaaack!  After calling it a season in Philly after only 25 games, Iverson has decided to once again revive his Hall of Fame career by making an impromtu comeback at the age of 35.  With rumors of divorce, child support, and gambling debts, Iverson playing again is probably more of a necessity than a want.  While no one can ever question his heart on the floor, Iverson has the potential to be a cancer in the locker room.  With the Sixers, A.I. played well as a starter averaging nearly 14 ppg and 4 ast, but he has clearly lost the explosion which once made him the hardest to guard player in the league.  He still has the skills to now be a more fundamental PG, as distributor and astute ballhandler, even though he is a liability on defense.  GM's beware, Iverson probably won't accept a bench role, so prepare to make him your starter, or he may once again quit the team.  With his reputation growing for all the wrong reasons, the market for A.I. is dwindling, even though he has proven the ability to still be able to play.  Even as his odometer continues to climb higher, he still remains a wildly popular player since he was voted in as a starter for last year's All Star Game.  Teams may give a 1 year deal in hopes he behaves and helps boost attendance.  

25.

SF

Matt Barnes 
8.8 ppg, 5.5 reb, 32% 3PT
30
6'7", 225 lbs
Barnes has a proven worth around the league as a hard nosed defender, who has decent 3 point range.  Coaches and GM's just love those dirty, blue collar guys, and Barnes fits that role to a tee.  After being a fringe starter for Philadelphia, Phoenix, and New York, Barnes found his niche with Orlando, starting most games at the 3.  As one of the game's better rebounding small forwards, Barnes is an excellent glue guy, even though he frustrates at times with his fascination with the 3 point shot.  Barnes is a good fit in Orlando, but will likely opt out of his final year at $1.6 mil, since he should garner 2 times that amount on the open market.  Look for contending teams to scoop up Matt, who has a nasty streak and has a tendency to get under the skin of opponents. 

26.

PG

Will Bynum 
10 ppg, 4.5 ast
27
6'0", 185 lbs
The man known affectionately as "Bynumite" has taken the hard way to get to the NBA after not getting drafted, then playing in Europe and the D-League, before earning a spot on an NBA roster.  With a few years now under his belt, Bynum has emerged as one of the game's best pint sized sparkplugs who can both score and dish the rock.  He averaged in double figures in points, while impoving his assists, playing mostly back-up point for Detroit.  Would playing starters minutes expose Bynum or further increase his production?  That's the question GM's will face this Summer as he is a restricted free agent who is owed a miniscule $1 mil for 2011.  As a more defensive minded Nate Robinson, Bynum would be an excellent explosive combo guard or back-up point with a small price tag for a team in need of backcourt help.

27.

PG

Quentin Richardson 
8.9 ppg, 4.9 rebs, 40% 3PT
30
6'6", 225 lbs
Richardson has become the epitome of the journeyman backcourt player since he has played on 4 teams this past year alone.  While I'm not quite sure why he cannot find a home, it's all but certain that "Q-Rich" will once again be moving on to another team since the Heat are unlikely to resign the 10 year veteran to a multi-year deal.  Richardson has been a starter for most of his career, mostly because of his ability to rebound from the guard spot and shoot the basketball from behind the arc.  Last season, he shot nearly 38%, but is capable of dropping treys at an alarming rate considering he has led the league in 3pt shots taken and made on a number of occasions.  As "Q" plays into his 30's, look for him to accept a bench role, possibly as a 6th man, for a contender. 

Signed: 3 year undisclosed deal with Orlando Magic

28.

SF/PF

Linas Kleiza 
17.0 ppg, 7.0 rebs, 33% 3 PT (Europe)
25
6'8", 245 lbs
After being an effecting bench player for the Nuggets in his first go around in the NBA as a back-up to Carmelo Anthony, Linas defected back to Europe to the tune of 2 years at $12 million.  The move worked out brilliantly since Kleiza got a big payday and improved his stock as a possible NBA player by winning the Alphonso Ford Trophy, which is handed out to the Euroleague's top scorer.  With an out clause after each year with Olypiacos, Kleiza is considering a return to the mainland, either with the Nuggets or another team.  As a restricted free agent from his deal with Denver, the Nuggets still owe him roughly $2.7 mil for next season.  As a high scoring SF with excellent 3 point range, Kleiza may get a larger, long term offer from another squad.  If he doesn't, look for him to return to Europe at $6 mil per year to be a starter.  

Signed: Offer sheet with Toronto Raptors

29.

PG

Ray Felton 
12.1 ppg, 5.6 ast, 1.5 stl
26
6'1", 220 lbs
Last season, Ray had a plan to take a 1 year deal, in hopes of proving himself and earning a bigger and better long term deal this Summer.  While he put up arguably decent starting PG numbers, the market remains luke warm on Felton, since some teams are concerned about his weight.  Will his gamble pay off?  It likely will have to be somewhere else rather than Charlotte since the franchise is strapped for cash and is already in negotiations to re-up superstar Gerald Wallace, and will surely try to resign free agent teammate Tyrus Thomas.  His numbers are remarkably consistent: 10-15 ppg, 5-7 ast, 1-2 stl, which are exactly what you'd want in a PG.  At age 27, Felton should get a look by teams with a higher scoring backcourt mate, who have a need for an unasuming new floor general.

Signed:

3 years terms undisclosed w/ NY Knicks

30.

SG/SF

Ronnie Brewer 
8.8 ppg, 3.2 rebs, 1.2 stl
25
6'7", 235 lbs
Ronnie became the odd man out in a cost cutting move mid-season for Utah.  After 3+ seasons, mostly as a starter, Brewer was sent to Memphis for a future 1st round pick.  He established himself as one of the better backcourt defenders in the league, and will be touted as such this Summer.  Possessing one of the more unorthadox shooting techniques in the league, Brewer's forte is defense, where he can be a shut down SG or SF for a contending team.  His time with the Grizzlies has been marred by injuries as he suited up for only 5 games.  Memphis owes him $3.8 as a restricted free agent, but Brewer may get lucky, and get a decent mult-year offer as a defensive specialist.

31.

SF

Anthony Morrow 
13.0 ppg, 3.8 rebs, 45% 3 PT
24
6'5", 215 lbs
Touted as one of the better young players in the league, Morrow has found his niche in the NBA as an elite 3 point shooter.  He has shot better than 45% in his two years of service with Golden State.  Morrow is a decent defender with long arms and is a capable rebounder from the 2 guard position.  Unfortunately, he got a bit exposed by Don Nelson's insistence on playing him at the SF position.  The jury is out on if he could develop into more than just a perimeter shooter, since he has shown brief flashes as a scorer.  He would be an excellent option as a 6th man for a contender or a project on a rebuilding team because of his young age.  With Morrow owed only $1 mil as a restricted free agent, look for a number of teams to be interested in his services.    

Signed:

3 years at $12 million with NJ Nets

32.

PG/SG

Nate Robinson 
10.1 ppg, 2.1 ast, 40% 3PT
26
5'9", 185 lbs
After being mired in coach D'Antoni's doghouse for shooting at the wrong basket, "Krypto-Nate" served as Boston's head cheerleader and sparkplug off the bench during the Celtics improbable run to the Finals.  While he didn't play much during the regular season, Nate played exceptionally well in the playoffs as Rajon Rondo's back-up.  Who could forget his entertaining 13 point 2nd quarter in Game 6 of the Eastern Finals?  In reality, while an exciting player, Nate will always be best suited as a scoring combo guard off the bench because of his diminutive stature.  Although he gives supreme effort on defense, opponents regularly shoot over his 5'9 frame.  Also to be considered, he can be a bit of a pest and knucklehead during practices and away from the game.  With all things considered, Nate should garner a lower level 2-3 year deal in a 6th man capacity.

33.

SG

Wes Mathews
9.4 ppg, 2.3 rebs, 38% 3 PT
23
6'5", 225lbs
As one of the hidden gems of this year's rookie class, Wes has earned himself a spot on someone's roster after going undrafted out of Marquette.  Although he does little else but score, Mathews earned a spot on many writers' 1st or 2nd All Rookie Teams.  He finished the year starring as Utah's starting 2 guard alongside Deron Williams, as the Jazz would surely like to resign the rookie sensation.  If Mathews resigns, he may have some competition next season from rookie Gordon Heyward of NCAA tourney fame.  Utah must act quick or risk losing Mathews to the highest bidder this Summer. 

Signed: 5 years at $34 million offer sheet with Blazers

34.

PF

Drew Gooden 
10.9 ppg, 7.7 reb, 1.0 blk
28
6'10", 250 lbs
Once a lottery pick of the Memphis Grizzlies, Gooden has bounced around 9 different teams over his 8 year NBA career as a good frontcourt scorer and rebounder.  Despite not possessing a ton of athleticism, Drew has quietly been a solid low post player for whomever he plays for, averaging 12 points and 8 rebounds for his career.  In fact, once he was shipped to LA for the final 24 games of the season, Drew averaged a career high 14.8 ppg.  With defense being his weakness, don't look for Gooden to block many shots, but he could be a viable option as a starter at the PF position.  With Blake Giffin due back from injury, and an exciting young crop off big men coming in the draft, Gooden will more than likely be playing elsewhere in 2011. 

Signed:

5 yrs – $32 million deal with Milwaukee Bucks 

35.

SF

Travis Outlaw 
9.1 ppg, 3.6 reb, 38% 3 PT
25
6'9", 220 lbs
As a throw in in the Marcus Camby to Portland deal, the LA Clippers saw just how good 7 year player Outlaw really is.  At only 25, Outlaw still has the potential to be one of the better SFs in the league because of an amazing amount of athleticism and excellent 3pt range.  While used mostly off the bench in his time with Portland, Outlaw could project as a rebuilding team's starter at the 3, considering he has excellent defensive skills as well.  If LA doesn't move to resign him, he should garner lots of attention as an unrestricted free agent.

Signed:

5 years at $35 million with NJ Nets

36.

SG/SF

Josh Childress 
15.2 ppg, 5.1 rebs (Europe)
27
6'8″, 210lbs
The former man-child known for sporting a trademark gigantic afro, "Chills" has become a very accomplished player in Europe.  After not playing American ball in over 2 years, Childress could be in high demand as a scorer and defender at either the 2 or 3 in the NBA.  Although he is still a restricted free agent, with rights owned by the Hawks, he could get offered slightly more than the $4.8 mil owed by Atlanta.  If not, look for Childress to return to Olympiacos for next season. 

Signed:

by Hawks and traded to Phoenix Suns

37.

SG/SF

Peja Stojakovic 
12.6 ppg, 3.6 rebs, 38% 3PT
33
6'9", 220 lbs
Once one of the game's best pure shooters, Peja has lost a step(or two) and will probably be best suited as a 3 point specialist in the latter years of NBA life.  Although he isn't ancient at age 33, he has played nearly 800 NBA games, not including his early run in Europe and international play.  In other words, Peja could begin a serious drop off at any time, and thus GM's should beware.  Chris Paul reportedly likes him but the organization may look to get younger in an attempt to surround the game's best point guard with an infusion of young talent.  Look for Peja to fetch a short term multi-year deal, possibly for a contender.

38.

SG

Tony Allen 
6.1 ppg, 2.7 rebs, 1.1 stl
28
6'4", 215 lbs
After having several lackluster years, Allen has earned a reputation as an excellent defender around the league.  His excellent play against D. Wade and Vince Carter in the '10 postseason may have revitalized his oft injured career and may get him some offers this Summer.  Despite only an average offensive game, Allen provided some pretty spectacular highlight reel dunks this postseason.  With Tony fresh on GM's minds from a strong playoff performance, he will probably draw some interest as a backcourt defensive specialist. 

Signed:

3 years at $9.7 million with Memphis Grizzlies

39.

SG

Roger Mason Jr 
6.3 ppg, 2.1 rebs, 38% 3 PT
29
6'5", 205 lbs
With the sparkling play of George Hill and the signing of Richard Jefferson in San Antonio, Mason became an odd man out last season.  The drafting of the sharpshooting Anderson out of OK State probably means that the Spurs no longer have a use for an aging shooter.  Mason remains one of the game's lights out shooters, and will undoubtedly find a spot on an NBA roster for 2011, although it may be in the $1-3 mil a year range. 

40.

SG

Marquis Daniels 
5.6 ppg. 1.9rebs, 1.0 stl
29
6'6", 195 lbs
After not hearing his name called in the '03 NBA Draft, Daniels was given a flyer with the Dallas Mavericks and has found a spot on an NBA roster ever since.  He proved his worth as a back-up scorer and defensive player for the Mavs, Pacers, and last year with the Celtics.  With decent height at the SG position, Daniels is an above average rebounder as well.  Look for Daniels to either draw a short term deal or resign with Boston for another season.

41.

PF

Udonis Haslem 
9.9 ppg, 8.1 rebs
30
6'8", 230 lbs
With age and the fact that Miami is clearing cap space in hopes of landing 2 max free agents, Haslem could have played his last game as a member of the Heat. Haslem has been a frontcourt mainstay in Miami since '03 and can still be counted on for 10 points and 8 rebounds along with elite level defense even at age 30.  While he played d most of his career as a starter, he was forced to the bench by the enigmatic Michael Beasley last season.  He could be a spot starter of frontcourt defender off the bench for either a rebuilding or contending team alike.  There's still plenty in the tank for Haslem and could be a key role player or mentor to younger players on a roster.  

Signed:

5 years at $20 million by Miami Heat

42.

SG/SF

Mike Miller 
10.9 ppg, 6.2 reb, 3.9 ast, 48% 3PT
30
6'8", 230 lbs
Long considered one of the game's best shooters, Miller's game has been changing for the worst.  Although he still had decent stats in an injury plagued first year in Washington, Miller shot less, and thus became a far less effective player.  While just short of turning 30, the former '01 Rookie of the Year needs to get back to what he does best: shoot the rock, or face a demotion to the bench as a 6th man or specialist.  Some teams will undoubtedly give some offers, but Millers focus and desire may come into question. 

43.

SG/SF

Kyle Korver 
7.2 ppg, 54% 3 PT
28
6'7", 215 lbs
As one of the game's best 3 PT shooters, Korver is in high demand on an NBA roster.  He has led the entire league in 3PT % and attempts, even flirting with breaking Steve Kerr's record of 52.4% last season.  The problem is that while an offensive force, he plays literally zero defense and can only be used in spurts because of foul trouble.  Korver would be best suited on a roster with a dominating big man like Dwight Howard and thrive on kick outs on double teams.  Look for Korver to be signed to a 3 year deal, possibly on a contender. 

Signed:

3 years at $15 million w/ Chicago Bulls

44.

C

Brad Miller 
8.8 ppg, 4.9 reb, 30% 3 PT
34
7'0", 260 lbs
After 12 years as arguably one of the league's best passing and shooting big men, Miller now struggles to shoot a high percentage from anywhere on the court and has always been a liability of defense.  The 2 time All-Star center probably doesn't fit in the Bulls plans going forward and consequently will be free to sign with anyone on the open market.  The problem is, now that he's lost his outside shooting touch, has he lost his value to a team?  Miller probably isn't worth more than a 1 year deal as a change of pace big off the bench or head off into retirement. 

45.

C

Joel Pryzbilla 
4.1 ppg, 7.9 reb, 1.4 blk
30
7'1", 265 lbs
Even though the"Vanilla Gorilla" is coming off of a pretty serious dislocated knee and torn patella tendon injuries, he is one of those players that every team needs on their roster.  He does all of the little things like rebound, block shots, set screens, and play excellent team defense.  Undoubtedly Portland would like to keep Pryzbilla on the cheap, but at age 30, some contending teams may also have an  interest, although it's unsure if he will be 100% at the start of the season.

46.

PG

Jason Williams 
6.0 ppg, 3.6 ast, 38% 3 PT
34
6'1", 190 lbs
"White Chocolate" apparently made a good decision to come out of retirement last Summer.  He provided excellent insurance for the oft injured Magic point guard Jameer Nelson.  When he got the chance to play, he was excellent.  In only 20 minutes per night, he dropped nearly 4 assists and shot 38% frombehind the arc.  If he choses to continue to play late into his mid 30's, Williams should garner some 1-2 year offers.

47.

C

Jermaine O'Neal 
13.6 ppg, 6.9 reb, 1.4 blk
31
6'11", 235 lbs
Although O'Neal's return to an NBA starting lineup can be considered a success last season, he is arguably only a shell of his former self.  Once a 6 time All-Star, O'Neals fall from grace has been  dramatic.  Because of injuries, he now lacks the explosiveness that made him one of the game's best rebounders and shot-blockers.  Although still an above average defender, O'Neal is now a 3rd or 4th option offensively and gets most of his points off of offensive rebounds.  Even though it seems as if he is much older, Jermaine is only 31, and could prove to be a valuable big man as a role player off the bench. 

Signed:

2 years at $20 million w/ Boston Celtics

48.

C

Zydrunas Illgauskas 
7.4 ppg, 5.4 reb, 48% 3 PT
35
7'3", 260 lbs
The man know as "Big Z" got a raw deal towards the end of the season.  After taking a demotion to the bench gracefully after Cleveland signed Shaquille O'Neal, the Cavs unceremonially traded Illgauskas to Washington in the Antawn Jamison deal.  Even though he was brought back to Cleveland for  a deep playoff run, "Z" has to have a bad taste in his mouth for being shipped out of town, even though he is the franchise leader in games played.  A few teams showed interest before the start of the playoffs and similarly should get a few offers this Summer. 

Signed:

2 years at $2.8 million with Miami Heat

49.

PG

Jordan Farmar 
7.2 ppg, 1.5 ast, 37% 3 PT
23
6'2", 180 lbs
With only one year remaining on his contract with the Lakers, Farmar probably would like a change of scenery.  With both the team and player differing on Farmar's worth, Jordan would love to be offered a starting job on the free agent market.  Unfortunately, he is an overvalued restricted free agent and is unlikely to fetch more than LA's $2.mil qualifying offer.  Look for Jordan to play out his final year and go the unrestricted free agent route next Summer.

Signed: 3 years at $16 million with NJ Nets    

50.

SG/SF

Tracy McGrady
8.2 ppg, 3.3 ast, 3.1 reb, 25% 3 PT
31
6'8", 225 lbs
I hesitated for a second to even include "T-Mac" on this list since he could decide on retirement.  It's always tough to watch one of the game's best players struggle to regain lost glory. Although his first few games in NY evoked memories of the former 2 time scoring champ and 7 time All-Star, McGrady appeared slow, overweight, and a step behind on defense.  Although his numbers weren't what we are used to, remember that T-Mac is only 1 year removed from yet another serious knee injury.  Another Summer of getting stronger may inch  Tracy a tad closer to his former self.  McGrady has gone on the record saying he would play for a contender for a league minimum offer.  Still a wildly popular player, McGrady could do wonders for a team with sagging attendance numbers.