May 9, 2010 – Dr. Anklesnap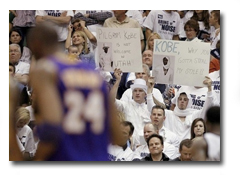 After Kobe Bryant did the photoshoot with the LA Times Magazine called "White Hot", he has been the butt of numerous jokes around the web for his abilities as a model.
Well during the recent Jazz-Lakers game in Round 2 of the NBA Playoffs, Kobe's dad Joe 'Jellybean' Bryant was being interviewed courtside about his son and the Lakers. What he didn't realize was that a Utah Jazz fan behind him during the interview was sticking out their tongue and holding up photos of Kobe Bryant from the LA Times Magazine photoshoot. They basically gave Joe everything but the 'bunny ears'. Well I guess Kobe, Joe, and the Lakers got the last laugh though as they are leading the Jazz 3-0 in the series and are likely to close the series out in 4 or 5.
Big shout out to Black Sports Online where we first saw the video.