April 26, 2010 – Kevin Burke
Depending on who you talk to, the players in the "best Point Guard in the league" discussion varies. Regardless of who's on your list, Derrick Rose now belongs in this category. I just officially put him there. Prior to the 2005 draft, guys like Jason Kidd, Steve Nash and Chauncey Billups were on everybody's list. Since 2005, Chris Paul and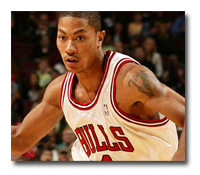 Deron Williams seem to have propelled themselves atop this list. It happened rather quickly too. Before you knew it, those two guys were all you heard. Well, they need to make room for D-Rose.
In only his second season, the former Rookie of the Year was voted by the coaches to the All-Star Game. That is the ultimate respect for a young player. That's more impressive than if the fans vote you because that means that you have respect around the league and that you are noticed. In his sophomore campaign, Rose averaged just under 21 points a night and 6 assists. I bring up Rose's second season stats because Chris Paul and Deron Williams were put into this discussion after their second seasons. Let's take a look at the number, shall we. In their second season:
Chris Paul: 17.3ppg    8.9apg    4.4rpg
Deron Williams:   16.2ppg   9.3apg   3.3rpg
Derrick Rose:  20.8ppg  6.0apg   3.8rpg
Yes, I realize that Rose's assists are off the pace of Paul and Williams, but Chris and Deron played on better teams than Rose in their second season. I largely attribute it to that (but yes, I do acknowledge the fact that they're each better passers than Rose today). In this year's playoffs so far, Rose is averaging 27 and 8 and has really asserted himself as the leader of a young Bulls team.
I was amazed at how Paul and Williams were so quickly annointed as the best PGs in the league. You could make the argument that it was premature, although they have both since proved that they are worthy of that distinction. Of the two, Paul has largely been considered #1 and Williams #2. The part I find funny now is the fact that since Paul spent a good portion of the season in street clothes, the general consensus is that Williams is now better than him. I find that laughable. Everyone is so caught up in the moment. It's not as if Paul got worse. So why is Williams all of a sudden considered better? Because we saw more of him this year? Sorry, I digress.
Rose absolutely needs to be in the discussion because he can get into the teeth of the defense like nobody's business. That's on the break as well as in the half court set. If he can develop a consistent jumpshot, he'll be unguardable (more so than he already is). Granted, he is a career 48% FG shooter but that's helped by the fact that he finishes around the basket alot.  He's deceptively strong and can jump out of the gym. Just ask Goran Gragic (I'm still trying to figure out what compelled him to jump with Rose. This was definitely the dunk of the year in my opinion)
I'm not saying he is the best PG, because I don't believe that to be the case yet, but he's no doubt officially a part of the discussion now.
If you're looking for your everyday, predictable basketball talk, then go somewhere else, because Kevin Burke of The Kevin Burke Project brings provocative, thought provoking content about basketball as only he can. Kevin also hosts The Hoop Doctors weekly podcast show, which you can subscribe too for free on iTunes.