March 29, 2010 – Allen Moll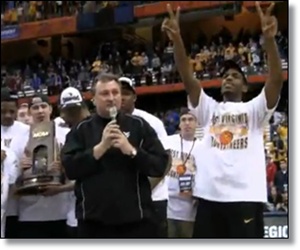 Kentucky basketball. Opposing players and fans either love them or hate them. Apparently we found out that a number of West Virginia players, namely Da'Sean Butler and John Flowers, aren't exactly fans of Kentucky freshmen John Wall or DeMarcus Cousins,…………or more specifically their dance moves.
After pulling off a pretty decided upset over the Wildcats in Saturday's Elite Eight match-up and putting the Mountaineers into their first Final Four in the modern era, a few WVU players were caught on tape mocking dance moves made famous by Wall and Cousins during the post game celebrations. Flowers got the taunting going by attempting to do the now famous John Wall Dance, which has turned into a pop culture phenomenon after Wall debuted it during player introductions during Big Blue's Midnight Madness before the season. Cousins also does his own little funky dance, which has become part of both players' pre-game ritual. Cousins has even already compared himself to Shaq. Many players and fans either find it humorous or arrogant. I feel it's just young guys having fun before games. Remember, we are talking about 18 year old kids.
For all the fans who don't like the dancing, there's some good news since Wall and Cousins have likely played their last collegiate game as they are most likely Top 5 lottery picks in the upcoming NBA Draft. Is it a bit classless for WVU players to mock their defeated brethren? Probably, but I get it, a majority of the Mountaineer roster are natives of the NY/NY metro area where we all have a bit a bravado and bragadocious nature about us. And we all know that Da'Sean Butler has a flair for the dramatic, as evidence of his 6 game winning shots already this season.
Nonetheless, congratulations to the WVU Mountaineers and good luck against the Blue Devils.
Check out the video as the KU Mockery begins at the 0:45 mark:
Allen Moll is an avid NBA and College Basketball fan who watches and studies games religiously and coaches youth basketball in his native Lehigh Valley region of Pennsylvania.  Allen is a regular columnist for thehoopdoctors.com, Bleacherreport.com, UpperDeckblog.com, and his own site, Hoops Haven.