March 30, 2010 – Allen Moll
The winner of the annually held Powerade Jamfest Dunk Contest is all but destined for stardom on the NCAA and NBA levels. The yearly contest, held as the main event of the evening, showcasing this year's McDonald's All Americans, has been won by a number of current NBA stars like Carmelo Anthony, Lebron James, and Vince Carter. This year's field was loaded with a combination of freakishly athletic guards and forwards led by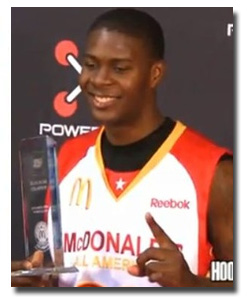 Perry Jones(Baylor), Josh Selby(Undecided), Patric Young(Florida), Tristian Thompson(Texas), Ray McCallum(Undecided), Joe Jackson(Memphis), Jereme Richmond(Illinois), and CJ Leslie(Undecided).
In one of the most talented group of participants in recent years, a number of contestants had trouble finishing off dunk because in my view, they were trying to pull off a show-stopping jam on every attempt. A number of stand-out performances were provided by the 6'11 Perry Jones, who is a Baylor commit and ranked #6 by Rivals, who pulled off a 360 Reverse Windmill and the 6'1 point guard, Ray McCallum, fresh off winning a state title for Detroit County Day in Michigan, who showed that whomever secures his services will be getting an explosive, yet silky smooth floor general. McCollum is rated as only the #60 player on Rivals.com, and is being heavily recruited by a number of top tier schools, even though he may wind up playing for his father, who is coach at Detroit Mercy. McCollum definitely helped his future prospects by putting on a show reminiscent of Nate Robinson during this year's NBA Dunk Contest.
The showdown between the event's two favorites, Josh Selby(#4 overall, #2 PG) and Kevin Garnett clone CJ Leslie never materialized since Leslie, although showing a ton of imagination and degree of difficulty on his attempts, was only successful on his second dunk , thus falling short of making it to the finals.
The night belonged to the sensational Josh Selby, hailing from Baltimore, MD, who at 6'4, was one of the shortest competitors in the contest. What he lacks in height, he more than makes up with a flashy combo of pure hops, skill, and swagger as he pulled off the Eastbay dunk, as made famous by Vince Carter in the very same event, nearly 15 years ago. He also pulled off a 360 left handed alley-oop to himself to secure the win. Selby is currently undecided between Kentucky, Arizona, UConn, Kansas, and Tennessee. Undoubtedly, some lucky school will be getting an explosive sparkplug of a player for next season.
Don't forget to watch the actual McDonald's All American Game, showcasing the best high school players in the country on Wednesday, March 31st, 2010 on ESPNU at 8PM.
Highlights of the '10 McDonald's All American Dunk Contest (via Hoopmixtape)
Allen Moll is an avid NBA and College Basketball fan who watches and studies games religiously and coaches youth basketball in his native Lehigh Valley region of Pennsylvania.  Allen is a regular columnist for thehoopdoctors.com, Bleacherreport.com, UpperDeckblog.com, and his own site, Hoops Haven.