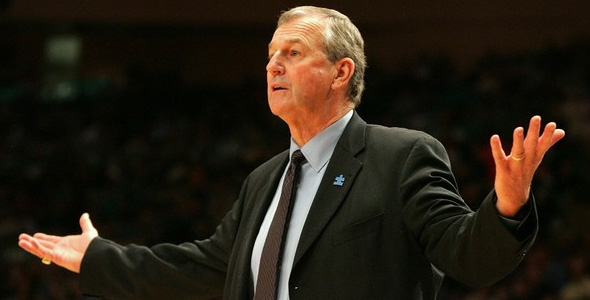 January 20, 2010 – Allen Moll
Allen Moll is an avid NBA and College Basketball fan who watches and studies games religiously and coaches youth basketball in his native Lehigh Valley region of Pennsylvania.  Allen is a regular columnist for thehoopdoctors.com, Bleacherreport.com, UpperDeckblog.com, and his own site, Hoops Haven.
Word coming out of the University of Connecticut is that the Huskies head basketball coach, Jim Calhoun, has taken an indefinite leave of absence for undisclosed medical reason. Longtime assistant coach, George Blaney will take over in Calhoun's absence.
Details have been sketchy concerning the nature of the '05 Naismith Hall of Fame inductee's illness but one can only speculate that it involves Calhoun's longtime fight with cancer. He has taken leaves of absence on three other occasions in '03 and '08 for prostate cancer and in '09 for a cell carcinoma as well as missing some time away from the team last Summer after sustaining a few broken ribs from a fall in a bike race.
Calhoun has helped put the UCONN mens basketball program among the elite programs in the nation almost immediately upon arriving in Storrs, Connecticut in 1986. After leaving Northeastern University, he has led the Huskies to their first ever Big East, NIT, and NCAA Championships in school history. He has a career 816-348 coaching record that includes 2 National Championships with Connecticut in '99 and '04.  
Calhoun ranks seventh on the all time coaches win list, just one win behind Syracuse coach and friend, Jim Boeheim.
He has coached and mentored a number of high level recruits like Ray Allen, Emeka Okafor, Donyell Marshall, and most recently Hasheem Thabeet while at Storrs, who have gone on to become very accomplished NBA players.
Some experts have insinuated that Calhoun has stepped away from the program over several off court issues over an ongoing investigation over recruitment violations of former top recruit Nate Miles, who is no longer with the program.
Others, including some former players, speculate that Calhoun needs a break because of stress. Most former players all agree that Calhoun does not handle losing very well and UConn has just recently dropped out of the Top 25 after losing 3 straight games, lastly at the hands of the Georgetown Hoyas.
While we all question his reasons for stepping away from the game that he loves, don't doubt that coach Calhoun will be back. Even at age 67, he is as feisty and intense of a coach that you will find on the NCAA hardwood.
Coach Calhoun, we all at the The Hoop Doctors, wish you a speedy recovery.