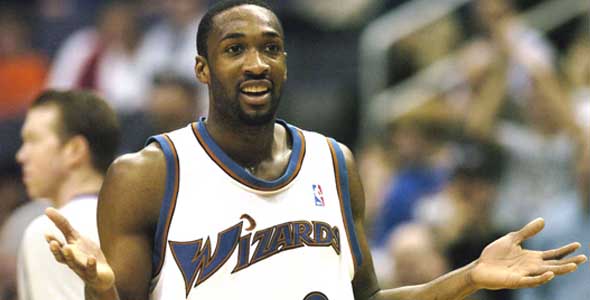 November 11, 2009 – Dr. Anklesnap
If you read this quote on NBA.com tonight you might think that the remarkable statistic about tonight's matchup between the Miami Heat and the Washington Wizards is that Dwyane Wade once again dropped 40+ points on the Wizards for the second time this season.
Dwyane Wade scored 41 points and the Miami Heat remained in first place in the Southeast Division by holding off the Washington Wizards 90-76 on Tuesday night.

It's the second time Wade has topped 40 this season, both against Washington: He scored 40 last Wednesday in the nation's capital.

Michael Beasley scored 15 points and Mario Chalmers added 13, including a 3-pointer that put Miami up by eight with 1:47 remaining. The Heat are 6-1 for the first time in a decade, matching the best seven-game start in franchise history.
I may even concede that the remarkable statistic about tonight's game was that the Miami heat with the win are 6-1 for the first time to start a season in over a decade. But if so, you'd be missing the most mind numbing statistic of all. Get ready folks…..
Gilbert Arenas, aka 'Agent Zero', set a franchise record for……TURNOVERS. He recorded an astonishing 12 turnovers. No that's not the team total. No that's not both teams totals. That's one players total. Wow.
You know what though folks. Arenas is not entirely to blame. How does a Coach allow a player to even get remotely close to 12 turnovers in a single game? I know Arenas handles the ball alot for the Wizards, but let me get this straight. Around the point where Gil had lets say….10 turnovers….he didn't get benched?
If that's the case, that's far too much control for a player over the Coach's decision making authority. For the most part turnovers are a consequence of 'mental lapses' during the game. I guess 'Agent Zero' checked out early in this one. His entire game was lapsing….