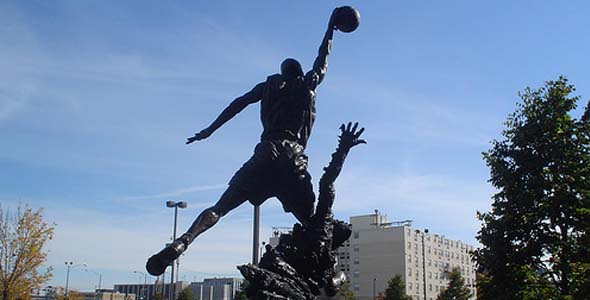 September 15, 2009 – Allen Moll
Allen Moll is an avid NBA and College Basketball fan who watches and studies games religiously and coaches youth basketball in his native Lehigh Valley region of Pennsylvania. Allen is a regular columnist for thehoopdoctors.com, Bleacherreport.com, Fanhuddle.com as a NY Knicks and Wizards correspondent, and his own blog, Hoops Haven.
Since Michael Jordan is now a member of the Naismith Hall of Fame, the time seems perfect to take a look back at some of his most memorable plays. One extraordinary aspect of his game was his amazing hangtime. Not many could elevate, stay in the air, and have the ball go so gracefully through the rim for two points, plus get the foul, like Mike. Who can forget MJ switching hands midair and laying the ball in over the Lakers' Sam Perkins in the '91 Finals? What about his famous last second shot and fist pumping as he single handedly beat the Cleveland Cavaliers? The two handed, split the double team, underhand scoop shot against the Hawks in the late 80's. He some how found a way to not only get the shot off but have it go in.Instead of the usual Top 10 plays we are all used to, I found a video with Jordan's best hangtime shots. Watch and enjoy.
Here are Michael Jordan's Top 10 Hangtime Shots: