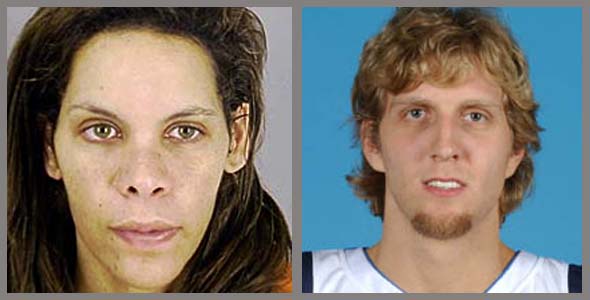 September 4, 2009 – Dr. Browntorious
Dirk Nowitzki is breathing a big sigh of relief today. Prison medical records were released yesterday showing that Cristal Taylor, Dirk's incarcerated ex-fiancee, is not pregnant with his child. Or any child for that matter. She tested negative for a hormone (HCG) that detects pregnancy.
A few months ago it shocked the basketball world, when a woman who claimed to be the fiancee of Dallas Mavericks star Dirk Nowitzki, was arrested at his estate. She was later charged with fraud, forgery, and theft. Details soon emerged about the woman's shady past involving a history of lies, fraud, exotic dancing, drugs, etc. etc. Dirk Nowitzki admitted to having been engaged to the woman, but claimed to have no knowledge of her past throughout their relationship.
Since being arrested, Taylor has been claiming to be pregnant with the child of Nowitzki. The Mavericks star has continually assured the media that she is not pregnant, and now as of yesterday he has that assurance in hand.
In other somewhat unrelated news, as you can see from the picture above, everyone is left wondering why in the world Dirk would be dating this woman in the first place. Mug shots are never pretty, but i'm not sure that's the issue…