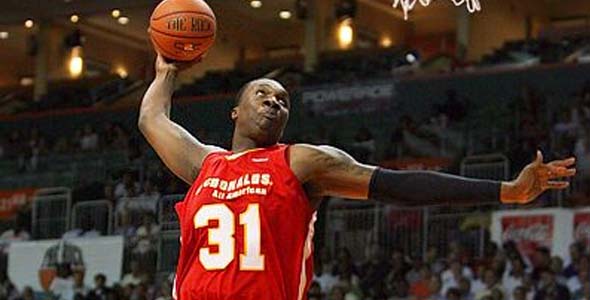 August 31, 2009 – Allen Moll
Allen Moll is an avid NBA and College Basketball fan who watches and studies games religiously and coaches youth basketball in his native Lehigh Valley region of Pennsylvania. Allen is a regular columnist for thehoopdoctors.com, Bleacherreport.com, Fanhuddle.com as a NY Knicks and Wizards correspondent, and his own blog, Hoops Haven.
Every June, NBA franchises raid the NCAA College ranks of it's prime talent in an attempt to improve and replenish their rosters. In turn, collegiate teams heavily recruit the HS basketball ranks to replace last season's top players who move on to the NBA. Here is a list of top incoming freshman who should get major minutes by replacing graduated or drafted players who moved on to the NBA.
Keith "Tiny" Gallon – 6'8 300+lbs School – Oklahoma Replacing – Blake Griffin
Replacing the #1 pick in the draft is a daunting task, but OU does their best by bringing in another talented big man with immense size who is probably a little less mobile, but has more range on his jumper out to the 3 point line. Best Case Projection: Think Shaq with a jumpshot.
Alex Oriachi – 6'9 245lbs School – UCONN Replacing – Hasheem Thabeet
Although a few inches shorter, Oriachi will succeed Thabeet as Connecticut's top rebounder and shot blocker and is slightly more polished offensively. Best Case Projection: Emeka Okafor.
Mouphtaou Yarou – 6'9 210lbs School – Villanova Replacing – Dante Cunningham
Yarou is a better all around talent as a freshman than Cunningham was 4 years ago. He could be one of the best big men in the country since he is the highest rated recruit in the '09 Class(#10), landed by any Big East team this season. Adding Yarou and 3 other top 100 recruits to the guard heavy Nova squad, which went to the Final Four, has the Wildcats thinking National Title. Best Case Projection: Al Jefferson
Avery Bradley – 6'3 175lbs School – Texas Replacing – AJ Abrams
Bradley may not be as a prolific 3 point shooter as Abrams but is the total package. With a long wingspan, he plays bigger than his size, can score in bunches, and is a tremendous on-ball defender. Bradley is a top 5 talent and may have as many highlights next season as Kentucky's John Wall. Best Case Projection: a shorter Andre Iguodala
John Henson – 6'10 205lbs School – UNC Replacing – Tyler Hansborough
UNC has big shoes to fill since Hansborough left the NCAA ranks as the All-Time leading scorer. They will try by committee, by using 3 Freshman frontcourt players. Henson, who is a big time scorer, should provide points, but is probably best suited at SF because of his thin built. Hansborough's rebounding and defense will come from and a pair of twins at PF, David and Travis Wear, who are dominating in the low post. Best Case Projection: Kevin Durant
Dante Taylor – 6'8 230lbs School – Pitt Replacing – DeJuan Blair
Taylor could be just as good of a ferocious rebounder as Blair, but is much better defensively, especially down low, but is also long and quick enough to disrupt guards in the backcourt. He won't win Big East Player of the Year like his predecessor, but will be very good.
Best Case Projection: Jermaine O'Neal
Other Impact Replacements:
Dexter Strickland(6'3 175lbs) replacing Ty Lawson at UNC
Strickland while more fundamentally sound offensively, won't be a hardwood blur like Lawson, and should get better with age. He could be a 4 year starter.
Rakeem Buckles(6'8 205lbs) replacing Earl Clark at Louisville
A versatile frontcourt player with a great name, Buckles is probably best suited to play the 3, with Samuardo Samuels and Terrance Jennings manning the 4 and 5 spots for Coach Pitino.

John Hood(6'6 185lbs) replacing Jodie Meeks at Kentucky
Hood, who has good size, should be the recipient of many highlight reel assists from Freshman point guards Eric Bledsoe and John Wall, who will also score in bunches.
Kenny Boynton(6'2 187lbs) replacing Nick Calathes at Florida
Boynton, who was a McDonald's All-American, is a sleeper as one of the best point guards in the country, since he can dish and score at will.
Junior Cadougan(5'11 185lbs) replacing Dominic James at Marquette
This Freshman from Canada is more than capable of replacing 4 year starter, James, in the backcourt. He will be called upon to score as well with the graduation of their entire backcourt(James, McNeal, and Mathews).
Andre Dawkins(6'5 195lbs) replacing Gerald Henderson at Duke
Duke caught a break when Dawkins, formerly in the '10 recruiting class, completed his coursework early to be eligible to play this season. He is what Vitale would call a "Diaper Dandy." "Dawk" is an excellent jump shooter who, if he improves his ballhandling, could become an elite player.
Soloman Hill(6'6 195lbs) replacing Chase Budinger at Arizona
Hill is a versatile forward who can play any position from the point to power forward. He will also help with the loss of PF Jordan Hill to the NY Knicks.