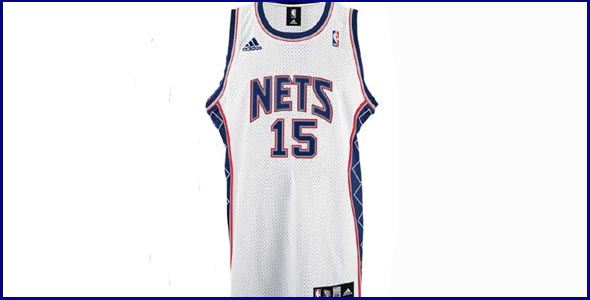 August 12, 2009 – Dr. Anklesnap
Do elected officials have nothing better to do in the summer months for their constituency than to complain about the logo's of their pro sports teams? Are politicians now graphic design artists? Are they branding experts?
Well if so, this New Jersey politician just branded himself incompetent:
via NJ.com
The Nets are catching heat from the New Jersey Senate Minority Whip for removing the words "New Jersey" from their road uniforms in favor of "Nets", a move criticized because it showed a lack of pride in the state.

Kevin O'Toole (R-Cedar Grove) said the state's Office of Legislative Services is drafting a bill that would prohibit tax dollars from the state from being distributed to teams that don't mention New Jersey on their uniforms.

"New Jersey's professional sports teams, the Nets, Jets and Giants, have no problem feeding at the taxpayer funded trough, yet seem to forget who their benefactors are when they order the teams' uniforms," O'Toole said, according to PolitickerNJ.com. "The taxpayers of this state have poured hundreds of millions of dollars into infrastructure upgrades in the Meadowlands where all the teams play their home games. Is it too much to ask that professional sports teams that benefit from the support of the New Jersey taxpayer recognize the state on their uniforms?
Did he just say 'feeding at the taxpayer funded trough'? Does he forget who pays his salary? A little hypocritical don't you think? Maybe we should all send in a petition requesting that Mr. Kevin O'Toole get a tattoo of the words 'New Jersey' on his forehead. Better yet, he should certainly have the words 'New Jersey' stitched on the front and back of each one of his fine italian suits, don't you think?
Mr. O'Toole, your last name may be slightly too long on the front and back end….