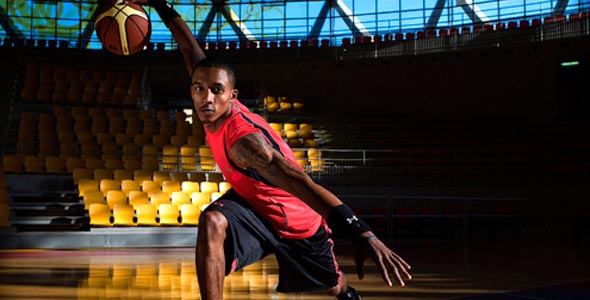 August 14, 2009 – Dr. Anklesnap
At first glance it seems that Brandon Jennings doesn't do anything the conventional way. He certainly didn't take the conventional route to the NBA. But he got there after being drafted by the Milwaukee Bucks with the 10th pick in the 2009 NBA Draft. Many of you who follow me on Twitter might have caught my post draft rants about how great I think Brandon Jennings is going to be. I used words like "revolutionize the point guard spot", and "passing ability of Jason Kidd + change of direction master like Allen Iverson". So I tend to get over excited about young talent. So what. This guy has a bag full of tricks, loads of confidence, and a chip on his shoulder since leaving Compton.
By the looks of this latest Under Armour spot I caught today on YouTube, Brandon Jennings has been doing ONE thing conventionally. Putting in work. Every baller knows natural talent only gets you so far. Genetics can't make you put the ball in the net, cross someone over, or hit a free throw. You need to put in work. Jennings may have had a few missteps since being drafted, but there is truth in his words from this vid. He's dedicated, hungry, and Milwaukee better be ready. 'Young Money' is going to put on a show this season.