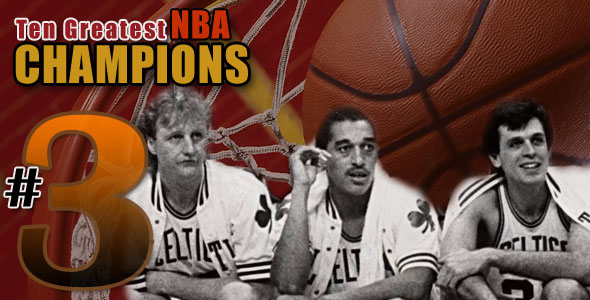 August 28, 2009 – Allen Moll
Allen Moll is an avid NBA and College Basketball fan who watches and studies games religiously and coaches youth basketball in his native Lehigh Valley region of Pennsylvania. Allen is a regular columnist for thehoopdoctors.com, Bleacherreport.com, Fanhuddle.com as a NY Knicks and Wizards correspondent, and his own blog, Hoops Haven.
With this season's NBA Finals behind us, I decided to take a look back and rank the greatest NBA Championship teams in the modern era(post 1980). This will be a ten part series with a new entry each week. Which teams had the most dominating seasons and playoff runs in the last 30 years? How would they stack up against each other? Which teams had the most Hall of Fame players or coaches? The rankings were limited to two teams per franchise in the top ten. Let the debate begin.
Starting Lineup: Dennis Johnson, Danny Ainge, Larry Bird, Kevin McHale, Robert Parish
Impact Bench Players: Jerry Sichting, Scott Wedman, Bill Walton, Sam Vincent, Rick Carlisle
Regular Season Record: 67 – 15 Playoff Record: 15 – 3 Finals: Beat Rockets 4 – 2
Individual Awards: Bird – MVP, Finals MVP, All-Star, All NBA First Team Walton – 6th Man of the Year McHale – All-Star, All NBA Defensive First Team Parish – All-Star Johnson – All NBA Defensive Second Team
#3 – '85-'86 Boston Celtics
The '85-'86 Celtics had a season for the ages. Coming off of a stinging loss to their arch rival Lakers in the '85 Finals, Boston made a questionable move by trading Cedric Maxwell to the Clippers for talented but oft injured big man, Bill Walton. Walton had once been one of the NBA's best centers, anchoring the Blazers frontcourt and helping Portland win a NBA title in '77. Numerous injuries had derailed the dominating big man's career before accepting a role off the bench with what some considered the best team in history. He shocked everyone by playing in an amazing 80 regular season games, providing valuable minutes off the bench for a dominating frontcourt of McHale and Parish.
The Celtics, in the regular season, were led once again by Larry Bird, who averaged 25 points, 10 rebounds, 7 assists, and 2 steals, while leading the league in FT%(.896), 3 Pt Attempts and made, earning him his third straight regular season MVP award. Their roster was also loaded with talent in the frontcourt with Hall of Famers McHale and Parish. The backcourt was led by defensive stalwart and floor general, Dennis Johnson and scrappy, former baseball player, Danny Ainge, with help from the bench from Sichting, acquired from the Pacers, Wedman, and young draft pick, Sam Vincent.
They rolled through the regular season finishing with one of the best single season records in history at 67-15, including an astounding 40-1 at the Boston Garden. They were very balanced, finishing 8th in points scored at 114.1 and 3rd defensively at 104.7 points allowed. Bird, Parish, and McHale were rewarded with mid season All-Star selections.
Both the Celtics and LA Lakers, by winning 62 regular season games, seemed destined for an '85 Finals rematch, which was won by the Lakers. In Game 2 of a first round sweep of the Bulls, the Celtics survived an offensive explosion by MJ who dropped 63 points at the Garden, still a playoff record. They then bested a Dominique Wilkins led Hawks team 4-1, the highlight being a Game 5 blowout 132-99. In the Eastern Finals they went up against one of their conference rivals at the time in Coach Don Nelson and the Bucks. Nelson had criticized Ainge of being a "dirty" player during their previous playoff matchups in '83 and '84. Boston swept Milwaukee to return to the Finals. The Lakers didn't follow Boston back to the Finals by losing in 5 games to the Houston Rockets.
Even though the Rockets had won far less games during the regular season, finishing 51-31, they had an imposing frontcourt of their own with their "Twin Tower" pairing of 7'4 Ralph Sampson with 7'0 Hakeem Olajuwon. With Sampson in early foul trouble in Game 1, Olajuwon picked up the slack by tallying 33 points and 12 rebounds but couldn't overcome the Celtics torrid shooting of over 65%, led by Bird's 21 pts, 13 assists and constant double teaming, and had Boston thinking sweep, by winning easily 112-100. In Game 2 it was more of the same. Even though Sampson rebounded with 18 pts, Bird totaled another 31 points as Boston won easily 117-95. When the series switched to Houston, the Rockets rebounded to win Game 3, 106-104, led by Sampson's 24 points and 22 rebounds. Game 4 was Parish's turn to dominate by both shutting down the Rockets frontcourt and totaling 22 points and 10 rebounds to go along with a late 3 pt shot by Bird, and a Walton offensive board putback, giving Boston a 106-103 win. The now infamous Game 5 was marred by the famous Sampson(7'4) vs Sichting(6'1) fight. With Sampson ejected, Olajuwon had 33 pts, 14 rebs, and 8 blocks, leading Houston to a 111-96 win. With a lead in the series at 3-2, Boston was confident coming back home to the Garden, where they were 49-1, including the playoffs. Larry Legend showed why he was the best player in the league during the season by tallying a triple double with 29 pts, 12 ast, and 11 rebs, leading Boston to a Game 6 win and Boston's 16th NBA Championship.
Bird was a unanimous selection for Finals MVP by averaging a triple double at 25 points, 10 rebs, and 10 assists. With this Championship, the ever competitive Bird and his Celtics now matched his rival Magic Johnson and his Lakers with 3 titles. The mid 80's Celtics team were matched only by the Lakers by making 4 straight Finals appearances between '84-'87 and finished either 1st or 2nd in the Atlantic Division for 9 straight years from '80-'88. One of my personal All-Time favorite teams, the '86 Celtics come in #3 in the Greatest NBA Champions since 1980.
Here is some footage of Jordan's Playoff record 63 points at the Boston Garden:
Here is footage of Larry Bird's triple double in Game 6 to win title #16