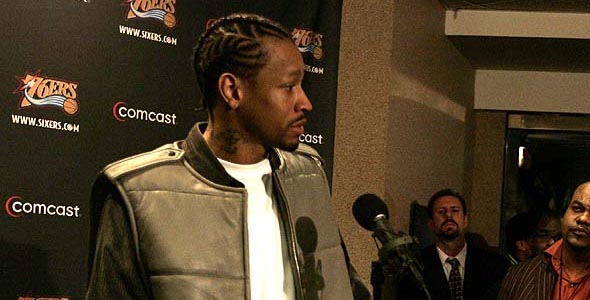 July 5, 2009 – Allen Moll
Allen Moll is an avid NBA and College Basketball fan who watches and studies games religiously and coaches youth basketball in his native Lehigh Valley region of Pennsylvania.
With teams in the midst of the NBA Free Agency Period, I decided to play armchair GM for my beloved Philadelphia 76ers. The Sixers were an exciting, yet inconsistent mix of up and coming young players( Iguodala,Young,Williams,Speights) surrounded by a few grizzled veterans(Miller, Dalembert, Brand). After yet another first round playoff loss, the Sixers are in need of a spark to push them from the mediocre to the Eastern Conference elite.
The drafting of high school phenom point guard from UCLA, Jrue Holiday, is a great move for the future but he will need a season or two of seasoning to start to fulfill his potential. While playing behind a proven NBA point guard for that time would be ideal, it appears Andre Miller won't be the man for that job. Rumors have him leaving Philadelphia via free agency or a sign and trade deal with Portland or Dallas (if Jason Kidd leaves) since the Sixers have offered only one year and Miller wants 3 or more.
One intriguing alternative to Miller would be the return of free agent and fan favorite Allen Iverson to the City of Brotherly Love. I know a lot of fans outside the Delaware Valley only remember A.I. for the corn rows, tattoos, selfish play, and memorable press conferences (yes we talkin' bout practice!), but he is a future Hall of Famer, took the Sixers to an NBA Finals, and will definitely still put fans in the seats. He also is a former MVP and has a career 27 ppg career scoring average which is fifth all-time in the NBA. Although his scoring average has decreased over the past couple of seasons, his ability to pass the ball has always been good, averaging more than 6 assists per game.
Iverson has stated recently that he has matured, understands his past mistakes, and will defer to teammates in order to win a title. Although many teams will pass on A.I. because of their fear he will clash with coaches or current players, they will never find a player with more heart. I have witnessed many of his magical moments in person, where he single-handedly willed many bad Sixer teams to victory.
At 34 years of age, A.I. still has enough in the tank to contribute to an already good team in search of that missing piece to compete for a NBA title. The Eastern Conference is only getting better with Orlando picking up Vince Carter and getting back a healthy Jameer Nelson, with Cleveland landing Shaq, and Boston looking to reload with Rasheed Wallace. Adding A.I. to Iguodala and Brand would make quite a formidable trio. The addition of Iverson would bring back some swagger, heart, and attitude to South Philly. Can you imagine an all Philadelphia Finals in 2010 with Kobe's Lakers facing Iverson's Sixers?