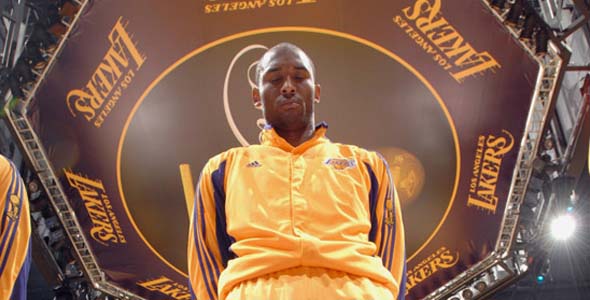 June 5, 2009 – Dr. Anklesnap
What a blowout! Lakers 100, Magic 75. I realize most analysts will say "a loss is just one loss regardless of of many or how few points you lose by", but in this case that's B.S. This is the NBA Finals, not the first round of the playoffs. The LA Lakers sent a message.
It was quite clear to me watching last nights game that the LA Lakers are the much better team. But that's not to say the Orlando Magic can't still win this series. Far from it. But if the Magic want a hope in hell of actually winning this series they will need to knock down their outside shots. That is what got them here. Being a match up nightmare for the opposition defense. When they are hitting the outside stroke, the middle opens right up.
And you know what that means, don't you? 'Superman' time. When the floor is spread and they get the ball into Dwight Howard, it's lights out for Pau Gasol. Dwight Howard is just too strong and physical inside for Gasol to contend with. Remember that 'Soft' tag that has been associated with Gasol for years now? Yeah, well I guess the Magic don't, because they failed to exploit that with the most powerful Center in the league today on their side.
But it all starts with the outside stroke. If Turkoglu, Lewis, Pietrus, Alston, Lee, and Redick don't start hitting from the perimeter at a better than Game 1's 8-23. It's lights out. Lakers will take it quick. Here is what the other blogs are saying about last night's outcome:
Empty the Bench – "It's amazing what a year can render. 12 months ago at this time it was the Lakers who looked like deers in the headlights in their first Finals contest against Boston, losing on the road. They looked out of sorts and scared. Fast forward a year, and it was the Orlando Magic who looked out of sorts and scared. They shot a measly 30% from the field and were out rebounded 55-41. Dwight Howard looked more like Clark Kent than Superman, as he only attempted 6 shots from the floor, making a mere one, and was never a factor. "
Talk Hoops – "Orlando had a terribly difficult time getting the ball into Dwight Howard and when they did, Andrew Bynum did a commendable job of keeping him out of position to score. Bynum, Pau, and Odom were active in denying Dwight the ball and fronted him while constantly moving from side to side to make any attempted entry pass a complete risk. It was Post Defense 101 that could only be learned from hours of studying Dennis Rodman game film. And when the ball swung around the perimeter, the defensive rotations were crisp, quick, and ended up forcing the ball to guys like Rafer Alston. When the plays broke down, the Magic found themselves hoping that Rashard Lewis could be effective from the post. He wasn't. He had difficulty getting truly clean and open looks over the long Lakers defenders and when he did get open looks, he just simply couldn't bury them. This was a game that was slowed down tremendously from where Orlando would have liked to play it offensively. They didn't get a single fast break point during this game."
Hoops Addict – "His tenacity was contagious. In the first half Derek Fisher, the most maligned Laker this postseason based on his lackluster play, had 9 points on four of five shooting. Luke Walton, no more than a bit player for much of the year, contributed with a three of four shooting night. Even Andrew Bynum, the Laker center whose value has been on trail since his return from injury this spring, contributed well with 8 points and 6 rebounds in the first half (which was better than Dwight Howard's 8 and 4). A 40-17 run for Los Angeles starting with 8:30 to go in the second quarter more or less sealed Orlando's fate on Thursday. At one point in the third, Kobe has 15 made field goals to Orlando's 17 as a team. That is not a recipe for success."
Third Quarter Collapse – "Bryant had more field goals in the second and third quarters (11) than the entire Magic team did (10). He was, despite the scoring, not the only reason the Lakers won this game. Their defense held Orlando to 29.9% shooting from the field–the worst Finals Game 1 shooting performance of the shot-clock era– and limited Dwight Howard to 1 field goal in 6 attempts. Their 55-41 edge on the boards helped keep the ball out of the Magic's hands, either by ending Orlando's possessions after 1 miss with a defensive rebound or by prolonging their own with an offensive rebound. From top to bottom, every Laker played great, and Orlando must improve in every facet of the game if it hopes to muster a comeback in the series."
Ball Don't Lie – "The Magic couldn't cope. They had no answer for a Laker defense that seemed to surprise them with its quick decisions, quicker traps, anticipation, and length. And, yes; will and determination and the eye of the tiger and all that. The Laker offense earns most of the discussion, but what was more out of place, the Magic scoring just 86 points per 100 possessions, or the Lakers scoring 115 per 100 (up about three points from its regular season tally)? Defense was the story. Laker defense, if you can believe it. On the other end, Los Angeles' spacing in the second and third quarters was so near-perfect, only a slow start and heaps of garbage time kept them from tossing in an all-world amount of points. And Kobe? Brilliant. On both ends, too."
What are your thoughts on the Lakers domination in Game 1?