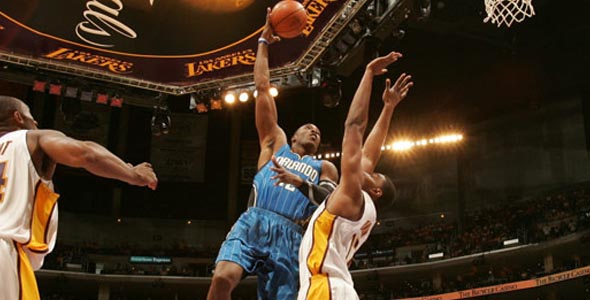 June 8, 2009 – Dr. Anklesnap
The Orlando Magic rookie wingman Courtney Lee had a clean look on a buzzer beating alley-oop lay-up to win Game 2 for his club, but he missed. It's over and done with. The Lakers took Game 2 in overtime. Although it may have been the most dramatic play of the game for either club, it certainly was not the reason the Magic lost in Game 2.
Personally, I think there was a bigger problem exposed in this game. Actually it was probably exposed in Game 1, however I was sub-consciously chalking it up to the legendary 'off-night'. Dwight Howard has an extremely weak offensive game. EXPOSED.
When you consider Howard's body with all that strength, speed, and athleticism, it is a crime that he hasn't developed more offensively by now under the tutelage of Patrick Ewing. At one point in the third quarter of last night's game, Dwight Howard dunked the basketball. It was his FIRST DUNK OF THE SERIES to that point. That is an absolute crime when you think about his physical dominance and edge he has over all other big men in the game.
Game 1, I could chalk it up to not getting the ball in the right position by his teammates. The standard big man excuse, 'not enough touches'. But after watching the Magic force feed Howard in the post last night I realized that it has nothing to do with his teammates and everything to do with his horrendous offensive abilities against any legitimate big man defender. Gasol or Bynum. Take your pick.
Sadly, it wasn't the 1.5 games without ever dunking the ball that frustrated me. It was the fact that Howard didn't go to the free throw line even once until late in last night's game. How can people have the nerve to compare Dwight Howard to Shaquille O'Neal at any point in Shaq's career? Shaq could do everything that Dwight does defensively, except he coupled that with being one of the most dominant offensive players of all-time. Shaq at any point in his career (even now), would have been to the free throw line multiple times in every quarter with his team feeding him the ball as much as Howard received it last night. Why? Because the only way to stop Shaq from scoring when he gets the ball deep in the post is to foul him. Hard. And forget the Bynum, Gasol tandem. Shaq (especially early in his career) would have dunked multiple times and/or lived at the free throw line against those two defenders.
What about the other great big men in NBA History? David Robinson, Wilt Chamberlain, Bill Russell, Hakeem Olajuwon, George Gervin, Kareem Abdul-Jabaar? Would these great big men have gone an NBA Finals game and a half without a dunk? Would they have gone almost a full NBA Finals game without a trip to the free throw line?
I'm sorry Magic fans, but until Dwight develops a post game, and/or even the motivation to score on putbacks or agressive moves to the hoop, the Magic's franchise player is really Hedo Turkoglu or Rashard Lewis. Speaking of which, anyone see Lewis' line last night? 34 points, 11 rebounds, 7 assists, 50% from three? Good lord, someone give that boy a hand. It's the NBA Finals….
Here is what the other blogs are saying about last night's outcome:
NBA Fanhouse – "For most of the fourth quarter and into overtime, Orlando Magic coach Stan Van Gundy had his team playing without a point guard. No Rafer Alston. No Jameer Nelson. Not even Anthony Johnson. Instead, Hedo Turkoglu had the job of bringing the ball upcourt and initiating the offense, something he didn't do a whole lot of during the regular season and postseason. But that's the move Van Gundy made midway through the fourth quarter of what turned into a 101-96 overtime loss in Game 2."
Ed The Sports Fan – "Courtney also had a chance to put the Magic ahead a possession prior to this play as he ended up with the ball and made a great drive to the rim and attempted a finger roll that backrimmed with Gasol again defending late on the play. (Big ups to Pau Gasol, who I've said repeatedly is the MVP of the Lakers. Its a tough argument, and if the Lakers win the title I swear I'll write the reasons why. However, his defense, if not physical, is superb. He finds ways to rub his chin in folks faces and seems to always be around the ball in the post. I think he gets an upgrade in the ranks of best bigs in the league.) The point I'm trying to make is, I'm not railing on Courtney Lee. Actually, he kind of reminded me a young Kobe, yeah I said it."
Ball Don't Lie – "And while the Magic try to figure things out from the outside, the inside play is still far from perfect. Dwight Howard(notes) was a turnover-y, complain-y mess for most of the game on offense. His defense improved considerably in Game 2, he was pretty poor in Game 1, though you could still see him take some plays off without the excuse of foul trouble to lean on. Still, 17 points on five of 10 shooting, 16 rebounds, four assists (in about 40 assist chances), seven turnovers, four steals, four blocks. The Magic didn't pass especially well on Sunday, but it was still Howard that refused to meet the ball in the post, while fumbling several other entry passes. This was mostly on him."
Third Quarter Collapse – "Los Angeles knows Orlando's offensive tendencies. It knows that Dwight Howard prefers to go right in the low post, it knows that Howard frequently brings the ball low enough to get stolen, and it knows that J.J. Redick is not looking for his shot at all. Howard committed 7 turnovers tonight, and to be precise, we should note that not all of them were ballhandling turnovers. And J.J. only coughed it up once, but that's deceptive, because it doesn't indicate the degree to which the Lakers were able to arrange their defense so as to cut off the passing lanes when he drove to the basket. He would have had a few layup chances had he kept driving, and looking to shoot, tonight. It's something that ABC's broadcast crew brought up throughout. And it's correct."
Heels on the Hardwood – "Courtney Lee may have missed the game winning shot for the Magic to steal home court but the story of the game was written with all the shots the Magic didn't get to take, courtesy of the 20 turnovers they accumulated in game 2. They improved statistically in every category from game 1 but my eyes kept going back to that number 20. Post game, Coach Stan Van Gundy couldn't look past that number either – "If the formula was 20 turnovers and 41 percent shooting, it's not a very good formula.""
What are your thoughts on the Lakers stealing the overtime win in Game 2?