May 9, 2009 – Dr. Browntorious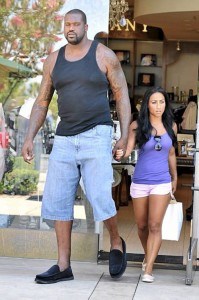 Can you imagine how difficult life would be for you if you were 7'4″ tall? Now imagine you are 7'4″ tall and you are only 12 years old! Well that is the case for 12-year old Brenden Adams who was recently featured on the Oprah Winfrey show. Brenden has a terribly hard time finding clothes and often is the subject of long stares from people when he walks around in public.
Well Oprah enlisted the help of her superstar basketball playing friend Shaquille O'Neal to fulfill Brenden's dream of meeting his favorite celebrity. At 7'2″ tall and 350lbs, Shaq is no stranger to sticking out like a sore thumb in a crowd (especially with his tiny girlfriend Nikki Alexander), and was happy to hang out with Brenden for a couple days. Shaq even brought Brenden to his personal tailor to get fitted for some new threads.
Shaquille O'Neal is a real class act, and I have a lot of respect for the big fella for making Brenden Adams dreams come true….Enjoy the video (sorry audio is dubbed over, but the original was taken off of YouTube):
Please enable Javascript to watch this video