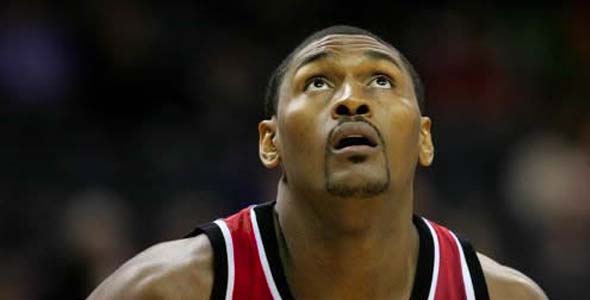 May 7, 2009 – Dr. Anklesnap
Ron Artest is certainly one of the toughest guys in the league. He's the type of guy you definitely don't want to see staring back at you in a street fight.
Is it because he's the strongest player in the league? No.

Is it because he's the best fighter in the league? Probably not.

Is it because he's as far removed from reality, aka 'crazy', as any other player in the league? Most Definitely.
The guy is just plain unstable. If you weren't aware of this fact after the brawl where he ran into the stands to fight Joe Public at the Palace in Detroit a few years back, then you certainly should be well aware after watching his post-game interview last night on TNT. Ron was tossed from last night's game for confronting Kobe Bryant after an errant elbow by Bryant caught Artest square in the throat. To add insult to injury, Artest was the one called for the foul on the play.
The refs could have handled it better, Kobe should probably be careful who he messes with, but Ron had no business confronting Kobe after the call didn't go his way. In all fairness to Ron, if it was any other player in the league who confronted Kobe it would have been a mere technical foul and the game would have went on. But due to Ron's checkered past, and history of violence, Joey Crawford over-reacted and tossed Artest from the game.
Leave it to Artest to try to get everyone aboard the crazy train though in his post-game comments in this video below. Artest describes how rough the basketball games were when he was growing up. He gives a detailed example where one player gets fouled, then another player picks up a 'piece of lead from a table' and throws it at the opposing player. Apparently the lead rod goes right through the player's heart and he dies right there on the court in front of Artest?
What is this Mortal Kombat Ron? Are you Kano? Did you once punch your defender in the chest and rip out his beating heart with your bare hands?
There is tough….then there is crazy…..then there is Ron Artest…