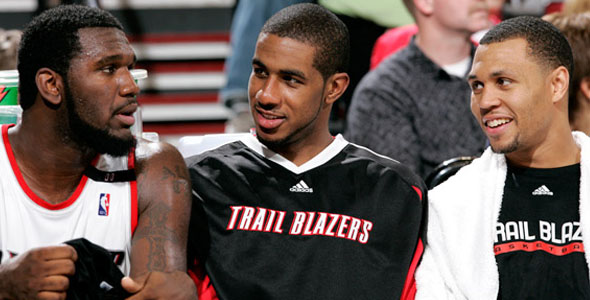 April 12, 2009 – Alex Curtis-Slep
Alex Curtis-Slep from NBA Tipoff.com fame, who many of you may also know as the founder/writer of the basketball blog Basketball Notes by Alex is covering all things NBA for The Hoop Doctors.
The Portland Trailblazers have played well of late and continue to show why they are a threat in the playoffs. Three things that scare me about them are:
Underrated Post Defense
The Blazers have shown that they can really get into you down in the post. Whether it's Greg Oden or Joel Przybilla, they've shown they are really solid. Post defense will be vital in the playoffs. Right now, it looks like they will face the Spurs in the first round. They'll have to deal with Duncan and Parker penetration; post D has to be great. The post D also allows them to play in more of a half court game; which is what playoff offense comes down to.
While that part of their defense is solid, they need to be a little more consistent on defense. At times they have a breakdown or take a possession off and that has to change. Consistent intensity will be a big factor in how far they get in the second round (yes, I have them winning the first; but they must have home court).
Smart Youth
Usually, youth is a detriment to any playoff team. But it's a little different with this Blazers squad. They are young, but they don't make near as many late game mistakes as you'd expect. There is more poise with them; a pleasant surprise. Also, as others have said, since they haven't experienced everything the playoffs means, they won't know some things, which can be a hidden strength. It doesn't make tons of sense, but when you don't know what you're doing, you might outperform your greatest expectations.
Title Components
They're not winning a title this year; but they have the pieces there now that will get them a title down the road. They have their star and closer in Brandon Roy, post greatness in Lamarcus Aldridge, solid big men in Oden and Pryzbilla and shooters (Blake, Batum, Fernandez; they do other things along with shooting).
With all these pieces and home court in the first round, I see Portland going to the second round. Possibly faced against LA, I can see them giving any team six or seven games in the second round. Even if I'm wrong and the Blazers are a first round out; experience will only be gained in the playoffs. With a young team, that's all the organization and fans could want.