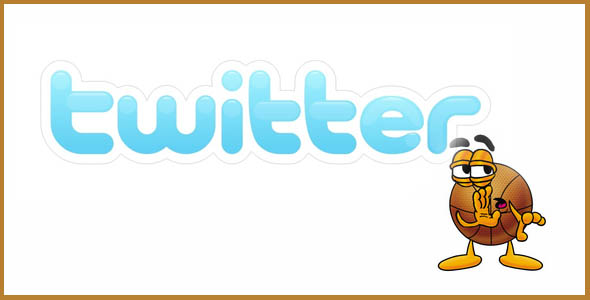 March 19, 2009 – Dr. Anklesnap
I'm not sure if The Hoop Doctors readers have noticed, but the social media program "Twitter" is starting to gain some steam. I mean people have gone twitter crazy, right? For those of you who haven't heard of the program, Twitter is a social networking and micro-blogging service that enables its users to send and read other users' updates known as tweets. Tweets are text-based posts of up to 140 bytes in length. Updates are displayed on the user's profile page and delivered to other users who have signed up to receive them.
We all know sports bloggers are pretty early adopters of social media programs and technology. Well for those of you who follow basketball blogs, this may be even more apparent as a good percentage of them have had a "Follow me on Twitter" button somewhere on their blogs for quite some time now. But it's not just the bloggers anymore, it's players such as Shaq making news for his 'tweets', and most recently Charlie Villanueva for using twitter during halftime of an NBA game that has gotten bloggers, mainstream media, players, coaches, and agents to all take notice. Some of which are even joining twitter themselves.
I'm sort of the social media representative of The Hoop Doctors you could say (seeing as how none of the other Docs spend much time on anything besides facebook). So if you want to check out what i'm up to on twitter you can follow me @anklesnap on Twitter. You can also often find me on digg as anklesnap.
Oh yeah the title of this post does say we have proof of the Twitter 'mania' that has taken over the basketball blogosphere right? So here it is, the following is a list of links to the Twitter profiles of several basketball bloggers that we are following right now. We are also following a lot of other great Sports Bloggers that talk about all the sports, so if you want to follow them too, check out my list of who i'm following. If we missed a basketball blogger we should be following, please send us a link ([email protected]) to their profile and i'll start following them and add their profile link to this list…..Start Tweeting People!
Basketball Bloggers
Scott – Ridiculous Upside
Hoops Heads North
One Season
BustaBucket