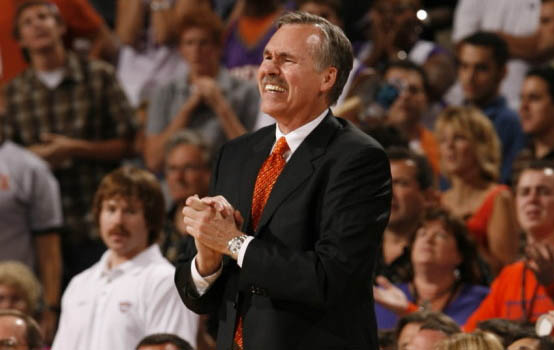 December 16, 2008 – Dr. Browntorious
I found last night to be a highly entertaining game between the Phoenix Suns and the New York Knicks. And I do believe that a lot of Dr. Dime's lead up questions regarding the game last night were in fact answered, with Phoenix choosing to play a more uptempo game than their usual for this season. Partially due to the fact they have acquired another great break scorer in Jason Richardson, and partly due to the fact that their best offense comes by using a combination of the ability of Nash in the open-court with the ability of Shaq in the half court.
On a completely separate note however there were a few golden nuggets of information that I gleaned from watching the game that I feel are VERY IMPORTANT to communicate to y'all!
Here are 7 things I discovered while watching the Phoenix Suns vs. New York Knicks game last night:
7. When Mike D'Antoni is really angry he looks like he is either crying or about to cry.
6. David Lee trying to stop Shaquille O'Neal from scoring is very similar to Spike Lee trying to stop Michael Jordan from scoring.
5. Proven theory: Al Harrington's forehead wrinkles are much larger after a missed 3-pointer than after a made one. I conducted a video experiment to test the theory. There was a large sample size of 3-pointers to use in this experiment.
4. Steve Nash is actually an illusionist. I believe the ball handling term "having the ball on a string" may actually be true in the case of Steve Nash. I would like an inquiry or investigation of some sort.
3. Nate Robinson was called a "Gnat" or other names referring to a small pesky creature more than 4 times by the in-game announcing team.
2. The 2008 Knicks score more points than Knicks teams of recent years….but they are still very bad.
and finally, the #1 thing I learned while watching the Suns/Knicks game last night….
1. Ex-player and current Suns announcer Eddie Johnson seems to really believe (no joke) that Shaquille O'Neal is now one of the better free throw shooting big men in the NBA (Aside from Amare Stoudemire of course).