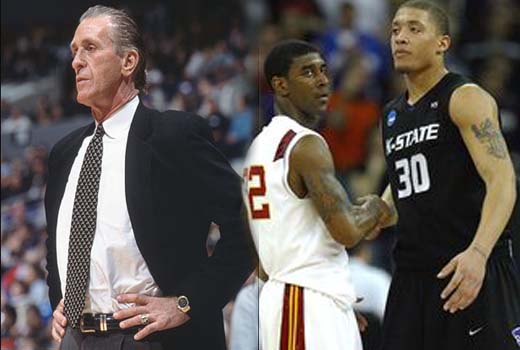 June 26th, 2008 – Dr. J-Water
Most of the experts have already penciled in Chicago native Derrick Rose as the Bulls first choice for their top draft pick in tonight's NBA Draft 2008. So that leaves the other leading candidate, Michael Beasley from Kansas State, as the obvious choice as the Miami Heat's #2 pick right? Hmmm….not so fast.
There have been quite a few articles released lately that point out the fact that the Heat GM Pat Riley is a little less than enthused about the prospect of drafting Michael Beasley. Reports have cited a variety of reasons from Beasley's care free attitude, to him being undersized for a power forward, to his lack of motivation on the defensive end of the floor, to concerns about him being too big a personality to stay focused with the night life options in Miami. All of which under normal circumstances would have a GM like Riley running for the hills. The problem for Riley is that Beasley's offensive skills are too hard to ignore. The guy can flat out dominate the game when he's on. And he's almost always on.


So that brings us to the ultimate question, debated heavily among NBA draft Guru's. Do you draft for your team's need, or do you draft the most skilled player available when your number is called? It's a debate that has gone on seemingly forever. But in recent years with the business side of the NBA growing as it has, the side of the debate which argues to draft the best "asset" you can at your turn in the draft is starting to win out. Worst case scenario, you can always showcase that draft pick for a year or less and use him as trade bait to get the players your team needs to fill the holes.
So what does Miami need? Given their record last year, a whole lot! But more specifically the Heat are looking for a high quality point guard to pair with Dwayne Wade for the future. Sure they are still very weak at the Center spot as well, but the NBA style of play is changing so rapidly that the value of high quality point guards is at a premium. Look around the league at the value of guys like Chris Paul, Deron Williams, Steve Nash, Jason Kidd, Baron Davis, and most recently TJ Ford (traded for All-star Jermaine O'Neal). High quality point guards that can run the fast break and keep the game simple for their teammates are in high demand.
With that having been said, it is obvious that Pat Riley would love to be able to draft O.J. Mayo. Reports have it that Dwayne Wade and Mayo have been working out together a lot over the last month, and have become quite buddy buddy. As we saw with Shaq and Wade's relationship, by having your big stars respect each other off the court can go a long way for aiding their play on the court. Look at how often the Celtics players this year refer to their bonding experience in Rome during pre-season as the reason for their immediate on court chemistry and success.
The closer the draft gets the harder it's going to be for Riley to trade down to the #3 or #4 pick (hoping to still pick up Mayo) and get another asset or cash consideration in return. So will Riley buck the modern conventional wisdom and select Mayo with his #2 pick tonight, or will he pick the talent of Beasley and hope for the best? I don't think anyone could blame him either way for how it turns out. Neither would be a bad move under the circumstances.