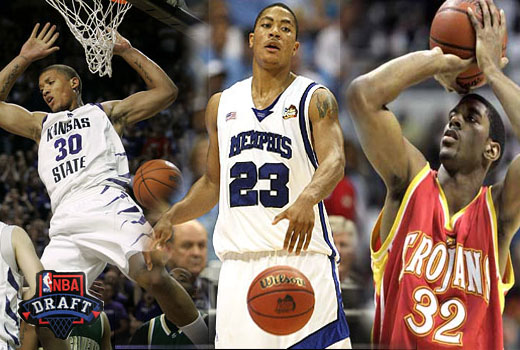 June 27, 2008 – Dr. Dime
Well there were very few surprises at the top end of this year's draft. Almost every mock draft board I reviewed had some combination of Derrick Rose, Michael Beasley, and O.J. Mayo as the Top 3 picks, most mock's having that specific order. What came next was surely a surprise to almost everyone, including the players.
It was a night dominated by dreams come true, trade talk, player swaps, surprise picks, New York City Boo's, and some broken hearts. All in all, it seemed like a fairly typical NBA draft. After the 'big three' were chosen there was much discussion about the two trade announcements made the day of the draft. The first the Jermaine O'Neal/TJ Ford swap that had been discussed the past couple of days. The second being a fairly new trade announcement between the New Jersey Nets and the Milwaukee Bucks. New Jersey is set to send the Bucks Richard Jefferson, in exchange for Yi Lianlian and Bobby Simmons.


After the first three picks and a bunch of trade talk and future trade speculations, I was not surprised that Seattle passed on Jerryd Bayless at the four spot as they need a really true passing point guard for their future with Kevin Durant. In that sense their choice of Russell Westbrook made sense for them. Bayless is more of a scoring point guard, and physically he is kind of a tweener between the point and shooting guard positions. What DID surprise me however is how far Bayless fell before being picked up at #11 by the Pacers. There were very few mock drafts that I was privy to that had Bayless going any lower than 8th. Heck even the NBA.com mock draft had him going 7th to the paper clips. Ah well, the Pacers I'm sure were more than happy to grab Bayless with their pick, probably assuming he would have already been taken by the time they had a turn.
It was not much of a surprise that Memphis took Kevin Love next with the #5 pick. In what has become a tradition the past few years when it was time for the New York Pick, their choice was followed by a heavy smattering of Boo's. They chose the next big Italian talent Danilo Gallinari. After the last few years of suffering through non-playoff bound bottom dwelling Knick squads, the New York Fans were looking for an immediate impact player to be chosen. They are tired of waiting for talent to develop and pay off, and they weren't afraid to voice it.
The next big surprise for me was the Charlotte Bobcats pick at #9. To me it made no sense for them to pick up a point guard at that spot. They already have a very serviceable point guard in Raymond Felton, and a quality backup in Earl Boykins. Sure they need depth at the point, but while they held the 20th pick from Denver they could have found a decent back up point at that position and used their #9 pick to grab a higher quality Center to improve their gap on their frontline. Brook Lopez, Roy Hibbert, and Robin Lopez for example were all available at the 9th spot and would have been a better inside presence than their 20th choice of Alexis Ajinca from France.
As far as heart breaks go, there was probably none bigger than Donte Green falling from what was expected to be a top 15 draft pick by most to the 28 spot, chosen by the Memphis Grizzlies. Other heart breaks included Chris Douglas-Roberts (fell to the 40th pick), DeAndre Jordan (35th), and Mario Chalmers (34th) all of which were expected by most to be first round choices.
Getting picked in the second round, may feel like a heart break today but as we have seen countless times, it can be just the motivation a player needs to bring his game to a whole new level he never thought was possible by working his tail off. Who will be the next big second round chosen NBA superstar?
Here is where you can view the final draft board.