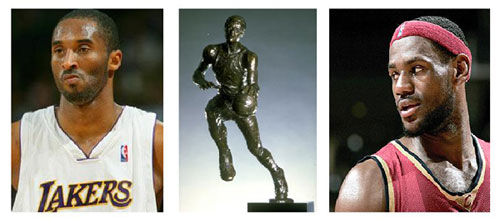 Every NBA Fan knows that Kobe Bryant is one of the most prolific scorers in NBA History, and along with Allen Iverson is probably the best scorer we have seen since "The One", Mr. Michael Jeffrey Jordan himself. So after 11 full NBA seasons, now playing in his 12th, why has Kobe never won the league's greatest individual honor, the "Maurice Podoloff Trophy" for the leagues Most Valuable Player? Heck, why has he not even been in the top 2 or 3 in consideration for the award? Well, that all may change this year as all indications are pointing towards a Kobe Bryant anointment as the league MVP. If you are a Kobe Bryant and LA Laker fan please do not continue reading this article, unless you are willing to take an objective look at the points raised. Although Kobe will most likely win the MVP award, you are about to read why Kobe isn't even in my top 3 candidates for MVP, with Lebron "King" James in my view leading the pack as the most deserving candidate.
Let's start off by stating a few simple facts: Best player in the league isn't the most valuable player, best scorer isn't the most valuable, most exciting player isn't the most valuable player, fan favourite isn't the most valuable player, hell the best dressed doesn't count for squat in the MVP race either! All of which (aside from the latter) are all statements I have heard people using interchangeably when discussing who is the 2008 NBA Most Valuable Player.
Kobe this year has been amazing, leading the Lakers to one of the best records in the tough Western Conference. However, he isn't doing much this year different from the last three years, aside from playing slightly more defense. What has changed is a massive improvement in the play of his supporting cast. Andrew Bynum started most of this season playing out of his mind, and if he didn't get hurt would have been a legitimate candidate for Most Improved Player. Sasha Vujacic came on this year as one of the most efficient three point shooters in the NBA. Lamar Odom is starting to finally live up to his potential as an all around threat in the mould of a Scottie Pippen. Derek Fisher came back on board to play quarterback, and provide steady veteran leadership and know how. And last but not least I must mention the not-so-little "gift" handed to the Lakers by the Memphis Grizzlies, ah yes, Mr. Pau Gasol. Since the addition of Pau Gasol, the Lakers have gone from a decent team bound for playoffs, to a legitimate contender to win the West. Kobe is a very gifted scorer, but his increased fortune in supporting cast giving him a better team record, should not mean he is a shoe-in for the MVP award.
For those that felt Kobe should have won MVP last year due to his 81 point effort against the Raptors or winning last year's scoring title, you are on shaky ground this year given that Lebron James is averaging 30.4 ppg to Kobe's 28.6 ppg. However as previously stated, scoring isn't everything and therefore I should mention Lebron is averaging 7.5 assists to the 5.3 of Kobe, 8.1 rebounds to the 6.3 of Kobe, and to top it off is shooting a field goal percentage of 48.4% to Kobe's 45.8%. All of which King James does on a slow it down, grind it out team who has less "possessions per" to get his numbers. But what amazes me most about Lebron's accomplishments this year, is the fact that he is getting so many assists on a team that is one of the leagues bottom dwellers in shooting percentage. Imagine if his kick outs resulted in knock down J's most of the time? He would probably be averaging Steve Nash like assist numbers.
For the pundits who state "Well Kobe's Lakers have a better record than Lebron's Cavs," if team record is so very important you may as well just hand the MVP award every year to the best player on the team with the best record. And even in such a scenario Kobe wouldn't get the honor; in 2008 that player would be Mr. Kevin Garnett of the Boston Celtics.
I do give Kobe credit this year for improving his defense, which seems to be a carry-over from his impressive defensive performance in this summer's Team USA FIBA America's gold medal run. But even as impressive as he's been this year on defense, Lebron has been better. Lebron has been locking down defenders with 1.1 blocks/6.3 defensive boards/1.9 steals per, whereas Kobe is sitting at 0.5 blocks/5.2 defensive boards/1.9 steals per.
Why will Kobe Bryant win the MVP for 2008?
Three main reasons:
1. The voters will feel that a hall of fame scorer of Bryant's caliber should not go to the hall of fame without ever having won the MVP award.
2. The voters will buy into the "better record than Lebron's Cavs" talk, all the while overlooking the magic Kevin Garnett has brought to the C's with the NBA's best record.
3. The voters will have already pegged Lebron James for MVP in 2009, 2010, 2011, 2012 and possibly beyond. The unfortunate part about this type of thinking is you never know what could happen, and the MVP should go to the most deserving player in that given year. No 'make-up calls' please.
So I've mentioned Lebron James and Kevin Garnett as my favorites for 2008 MVP before Bryant. Is there anyone else? Here are my top 5 MVP candidates in order of preference for this year's Maurice Podoloff trophy:
Lebron James
Chris Paul
Kevin Garnett
Kobe Bryant
Steve Nash
Well there it is. And I've done enough NBA debating and blogging to know that the Kobe and Laker fans will leave me some "passionate" responses to this article. Let the J-Water bashing begin.