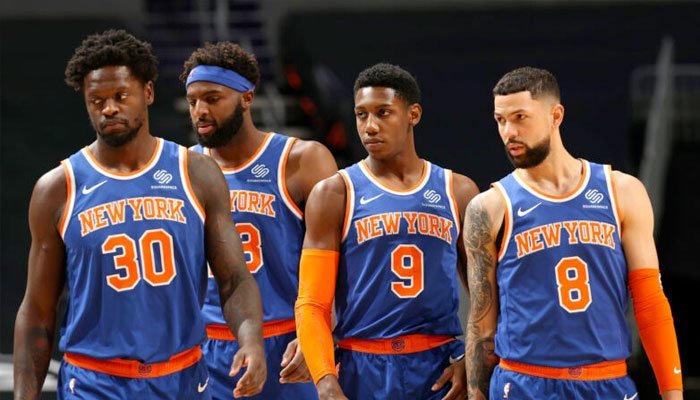 With the 2023 NBA season quickly approaching, the New York Knicks want to build on their recent success and become a championship-contending team. While much of the focus has been on player acquisitions, it is essential to remember that there is more to building a successful franchise than simply acquiring talent. In this article, we look at how these components can combine to create long-term sustained success for one of basketball's most storied franchises.
New York Knicks' Trade Targets
The New York Knicks have been actively looking to add an All-Star caliber player to their roster to reach championship contention, and this summer, they had their sights set on Donovan Mitchell. Though a deal wasn't reached and Utah's asking price was too high, the Knicks still have plenty of trade options moving into the 2023 season. The likes of Trae Young, Damian Lillard, and Bradley Beal are all potential targets for the Knicks, each having a different value depending on what the opposing team is willing to offer in return. If Philadelphia fails to re-sign James Harden, Joel Embiid could be a target, as he has experience leading a team to success.
However, any deal involving one of these stars would likely require the Knicks to part ways with several players due to salary cap restrictions. This means it comes down to how much each side is willing to give up in exchange for the player they desire.
With the Knicks owning ten first-round picks over the next six years and several young players like Obi Toppin, Immanuel Quickley, and Quentin Grimes in their roster, they have all the pieces necessary to make a significant splash this summer. Furthermore, Evan Fournier's expiring contract could prove valuable as a salary match in any trade situation.
New York Knicks' Outgoing Free Agents
The New York Knicks have five players set to test the market this summer, allowing them to decide which direction to go for the 2023 season. Point guard Derrick Rose, shooting guard Josh Hart, and guards Miles McBride, Duane Washington Jr., and Trevor Keels are all entering free agency.
Hart is likely the most sought-after among these players due to his impressive showing with the Knicks since being traded from New Orleans at the deadline. His ability to play both ends of the court has been precious for New York and would be difficult to replace if he moves elsewhere.
McBride and Washington Jr., meanwhile, will both be restricted free agents, which gives the Knicks a chance to retain their services should they choose. Though still young, both guards have already proved their worth during their short time with New York and could each develop into critical contributors moving forward. Finally, Rose is expected to leave as his contract expires this year. With that said, the odds on the New York Knicks winning it all this year are slim at best.
New York Knicks Free Agent Targets
The New York Knicks are also looking to add talent through free agency and have been linked with several names this offseason. One of the most notable is shooting guard Donte DiVincenzo, who established himself as a legitimate 3-point threat and reliable defender during his time with the Milwaukee Bucks.
Players such as Max Strus, Lonnie Walker IV, and Seth Curry could also be on the Knicks' radar because they can space the floor and create shots for others. Given their current roster composition and limited cap space, these players may fit into the Knicks' price range while offering a versatile skillset that can contribute on both ends of the court.
New York Knicks NBA Draft Targets
The New York Knicks may have yet to have a first-round selection in the upcoming NBA Draft, but they can still find talented prospects in the second round. One name that stands out is UCLA's Jaylen Clark, who was a consistent contributor on both ends of the court with the Bruins and boasted an excellent shooting stroke.
Kansas' Jalen Wilson also presents an intriguing option due to his two-way playmaking ability. Penn State's Seth Lundy is another player who could fit into the Knicks' offensive system due to his size, shooting, and athleticism.
Conclusion
The odds are in the New York Knicks' favor when it comes to their future success. With many trade targets, free agents, and draft prospects available, they have all the pieces necessary to make an impact this summer. From Donovan Mitchell to Seth Curry, Bradley Beal to Jaylen Clark – no talent shortage could help propel the franchise into championship contention in 2023. Though much of this will depend on how well each side works together during negotiations, the New York Knicks can build a sustainable winning culture for years if done correctly.