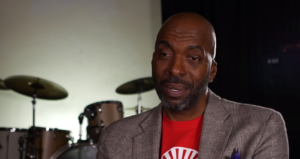 Following Kobe Bryant's death in a helicopter crash two weeks ago, everyone has now started buzzing about his memorial on February 24th to honor him, his daughter and the other victims of the crash in California.
Former LA Lakers player John Salley, is now worried about how Kobe's family could get punched in the gut again in the aftermath of this terrible tragedy.
Salley recently spoke to media about his concerns that various people associated with the crash may come after the Bryant family legally in search of a piece of his estate. He spoke about this on Vlad TV where he explained that there are dangers due to the number of victims and bystanders.
"I just hope that the whole money thing doesn't get to be public," Salley said. "I hope it's all handled out, and that it's handled out well."
Salley believes there will be "sharks" in the water in the aftermath that will be looking to sue given how big of an estate Kobe is leaving his family. He also believes even bystanders to the crash may be looking for compensation, as crazy as that sounds.
If you don't believe someone may sue over this and want to bet on it, best basketball betting sites as recommended by OLBG.com might take that bet. It's a good source for making various types of basketball bets for hoops fans.
"The guy who was on the bike is probably going to have a little something," Salley said. "That he had to watch it and that his camera was filming it. It's gonna be everybody, the sharks come out. I'm glad right now it's not around. I'm glad it's still hitting home."
Salley had already won three NBA championships when Bryant joined the Los Angeles Lakers in 1999, and described how he saw him transform from a young rising star to become "the grand master."
"Kobe would sit, put his headphones on and listen to music, sit in a corner. And I would go sit next to him," he said. "I would tap him – he'd be like 'oh,' and he'd take out his headphones. I said, 'you're not listening to anything.'" When asked why, Salley said Bryant replied, "I want to hear what they say about me."