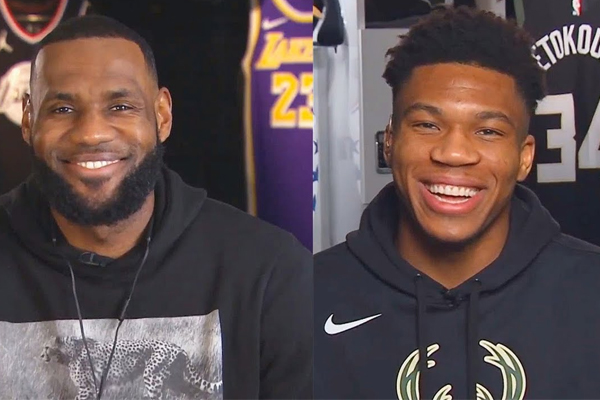 With the NBA trade deadline now out of the equation, the focus has now shifted to the All-Star weekend.
All-Star captains LeBron James and Giannis Antetokounmpo picked their teams Thursday as part of TNT's "NBA All-Star Draft Show." Antetokoumpo delivered on his promise to take Steph Curry with his first draft pick after James selected Kevin Durant at his No. 1.
TEAM LEBRON
1. Kevin Durant
2. Kyrie Irving
3. Kawhi Leonard
4. James Harden
5. Anthony Davis
6. Klay Thompson
7. Damian Lillard
8. Russell Westbrook
9. LaMarcus Aldridge
10. Karl-Anthony Towns
11. Bradley Beal
12. Dwyane Wade
TEAM GIANNIS
1.Steph Curry
2. Joel Embiid
3. Paul George
4. Kemba Walker
5. Khris Middleton
6. Nikola Jokic
7. Ben Simmons
8. Blake Griffin
9. D'Angelo Russell
10. Nikola Vucevic
11. Kyle Lowry
12. Dirk Nowitzki
Interestingly enough, five of the first six players LeBron selected, Durant, Kyrie, Kawhi, Anthony Davis, and Klay Thompson, can become free agents over the next two summers.
Giannis and LeBron also exercised their right to trade with James sending Westbrook to Giannis in exchange for Ben Simmons.
? TRADE ALERT ?

Russell Westbrook will play for #TeamGiannis
Ben Simmons will play for #TeamLeBron pic.twitter.com/Ble0lmiD2b

— NBA TV (@NBATV) February 8, 2019
Both All-Star teams will play for community-based organizations, with donations directly benefiting the All-Star host city. The winning team's charity will receive a $350,000, while the losing team's organization will get $150,000.
James' team is playing for Right Moves for Youth, a school-based dropout prevention and student-support program in Charlotte and Antetokounmpo's team is playing for Second Harvest Food Bank of Metrolina.