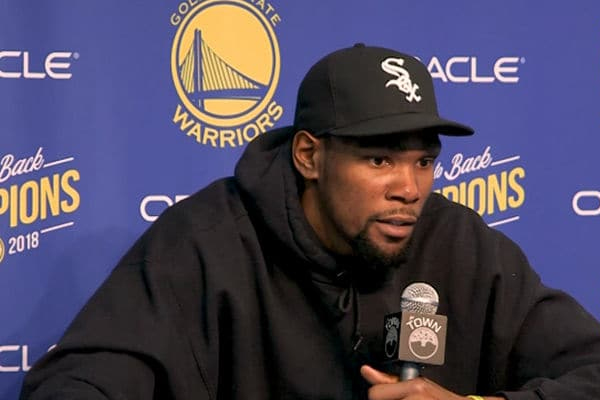 Kevin Durant has been very quiet with reporters since the Knicks, a team he has been linked in free agency, traded Kristaps Porzingis to the Mavs.
But after the Warriors win over the Spurs on Wednesday, Durant broke his silence and revealed he's fed up with the way the media has treated him when it comes to rumors about his future.
This is the full 2:50 of Kevin Durant addressing why he hasn't been talking to the media lately: "I just don't trust none of y'all." pic.twitter.com/MtftOpa3e4

— NBA on ESPN (@ESPNNBA) February 7, 2019
Durant even singled out The Athletic's Ethan Strauss who wrote a story about his media silence. He then continued by implying his relationship with the media is tarnished as a result of his quotes being misrepresented and that he no longer trusted them.
"Every time I say something, it gets twisted up and thrown out. So many different publications try to tear me down with my words that I say. So, if I don't say nothing, it's a problem. I just want to play ball. I want to go to the gym and go home. That's all. Is that a problem? Alright, then."
His postgame news conference lasted just over 3½ minutes before the abrupt ending and as hard as Durant and the Warriors have tried to push the speculation away, the reality is that his free-agency decision has hovered over everything the group has done this season.
Teammates and coaches have understood all along that the decision and speculation have weighed on Durant, but he hadn't allowed those feelings to come out this publicly until Wednesday.
"Honestly, I think it's more him not being able to control his own voice in terms of, obviously he's talked about it from time to time throughout the year, he's focusing on basketball," Stephen Curry said. "And that's what he should do. We want to see that K every day. So what he can't control is B.S. that happens in the media or people making a decision for him or all this other stuff. So in terms of him just playing basketball, focusing on what happens out there on the 94 feet, being there for us as his teammates and us being there for him. That's what he can control, and I think he's doing a great job of that. So all the other stuff, I wouldn't call it a distraction, it's just more so from his standpoint frustrating. Again, the way that he plays basketball and the way he is a teammate, that's all we're worried about, and I think he's doing a great job of that."
Durant has every right to be annoyed and upset. He's on a highly scrutinized team with the media documenting his every move, but that's part of the job and it will only get worse with his upcoming free agency.