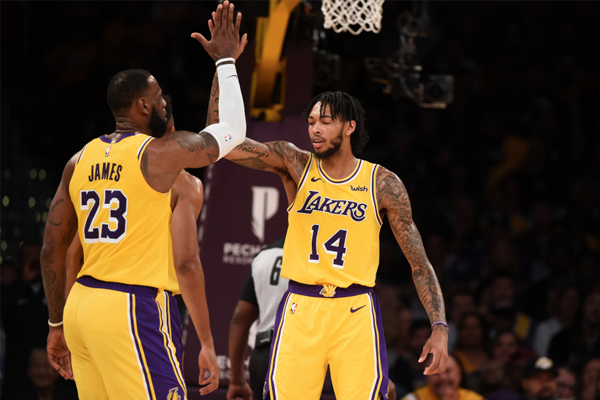 As the Los Angeles Lakers continue to rise in the Western Conference standings, the team looks more and more like any other team of LeBron James—maybe even the 2007 Cleveland Cavaliers, a team that made a surprise trip to the NBA Finals.
That Cavs team was led by James (27.3 ppg at that time), Larry Hughes (14.9 ppg), Zydrunas Ilgauskas (11.9 ppg and 7.7 rpg) and point guard Eric Snow (4.2 ppg and 4.0 apg), but what made that team fun was that James was good enough to lift up all those lesser mortals.
The Lakers are currently 7-3, coming off a 114-103 victory over the Dallas Mavericks, who are coming off wins over the Rockets, Celtics, and Warriors and a 120-96 win over the Suns. They have improved to 14-9, 5th in the West and are lined up to face the Oklahoma City Thunder if the playoffs started today.
LeBron James just makes everybody better.
Kyle Kuzma is shooting a career-high 46.9% from the field.
Lonzo Ball is shooting career-highs in field goals (40.1%) and from beyond the arc (33%), which are still very low.
Josh Hart is averaging career-highs in blocks per game, steals per game, and field goal attempts.
Brandon Ingram is putting up career-highs in field goal attempts, two-point shooting percentage (49%), blocks per game (0.7), and tying his high in steals per game (0.8) all while scoring 15.8 ppg (2nd highest in his young career).
Most of all, JaVale McGee is having his best season ever, posting career-highs in scoring (12.0 ppg), assists (1.0 apg), steals (0.9 spg), and blocks (2.8 bpg).
But the real state of the Lakers is that they must be willing to part with anybody—aside from players with expiring deals and with the last name Kuzma to obtain Anthony Davis. With perennial all-stars like James (28.1 ppg) and Davis (27.8 ppg) and enough cap space to sign another good player over the summer, the franchise's fortunes will have been dramatically reversed since finishing 11th in the West last season.