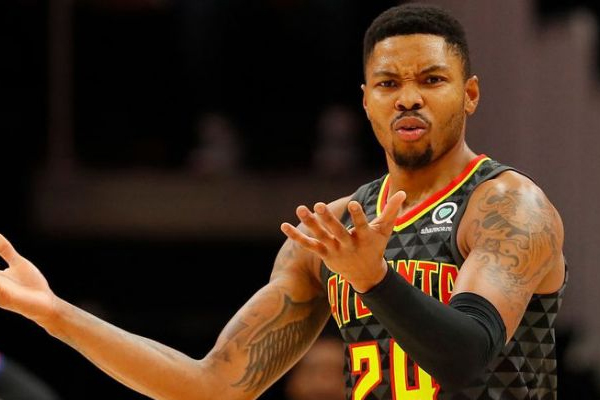 Atlanta Hawks guard Kent Bazemore has been fined $10,000 by the NBA for throwing the ball into the spectator stands. The incident occurred Sunday night when the HAwks lost 144-127 to the Brooklyn Nets.
With 9:09 left in the fourth quarter, a frustrated Bazemore slammed the ball into the stands after conceding a transition bucket to the Brooklyn Nets Ed Davis. Atlanta coach Lloyd Pierce called a timeout, but not before Bazemore bounced the ball off the floor so hard that it went into the spectator stands. He was awarded a technical foul.
Hawks wingman Kent Bazemore has been fined $10,000 for throwing the basketball into the spectator stands during Atlanta's game against the Nets in Brooklyn on Sunday. pic.twitter.com/DewIK0DyrC

— Rob Lopez (@r0bato) December 18, 2018
It's understandable why the NBA doesn't want players throwing the ball into where fans are sitting which is why there are fines.
According to Spotrac, it's the first fine greater than $3,000 levied against Bazemore in four-plus seasons in Atlanta.
Bazemore is averaging 13.2 points, 3.9 rebounds and 2.6 assists per game this season. He is shooting 44.3 percent from the field, 31.3 percent from beyond the arc and 77.9 percent from the free-throw line.