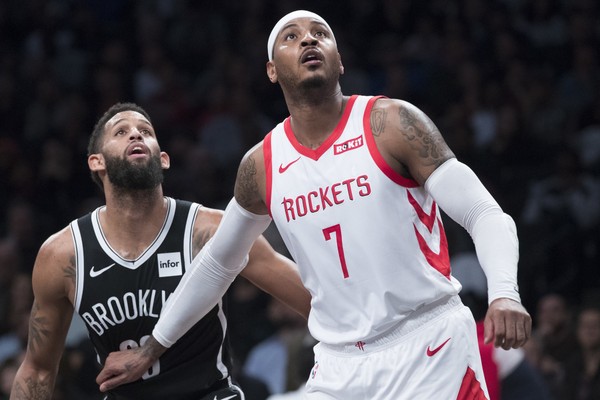 It remains to be seen where Carmelo Anthony will end up after he's officially done with the Houston Rockets. It's not even clear when he'll actually be waived. But one thing's for sure: His time in Houston is coming to an end. There are a lot of folks placing bets on where Anthony will land, and others just want to review what the odds might be of 'Melo landing with their favorite team. You can use sites like Amazing.Bet to get the information you need for online bets.
Oh, and another thing's apparently for sure: The Lakers have no interest in retaining his services once he hits the open market.
Here's what The Undefeated's Marc J. Spears had to say while appearing ESPN's The Jump (h/t Silver Screen & Roll's Anthony Irwin):
"I'd keep my eye on Miami, Philly. Philly's interested. I am hearing that, not the Lakers. I think the Lakers are done."
It makes sense that the Lakers aren't interested. They should be more thoroughly staggering the minutes of LeBron, Lonzo Ball, Kyle Kuzma and Brandon Ingram before looking to add another ball-dominant scorer. Melo might be an upgrade over Michael Beasley, but the headlines don't write themselves when Beasley doesn't play. They will if Anthony watches from the bench.
For what it's worth, it seems like we can also rule out the Sixers, per Philly Voice's Kyle Neubeck:
In other #Sixers news, received a text from a team source categorically denying report this morning that they were/are kicking the tires on Carmelo Anthony.

— Kyle Neubeck (@KyleNeubeck) November 12, 2018
The Sixers are another team that would be a curious fit for Anthony. Well, most would be curious fits. But the Sixers just traded for Jimmy Butler. They're combustible enough with him, Joel Embiid, Markelle Fultz and Ben Simmons all jockeying for touches. Anthony only complicates that dynamic.
Miami would be closer to a solid fit. The Heat were in on the Butler sweepstakes before Josh Richardson's breakout, so they're clearly interested in another shot creator. They'd obviously prefer said shot creator could defend, but Melo at least fits that bill.
The Golden State Warriors probably also deserve a mention here as well. Their bench could use some extra juice, and they have a way of getting players to buy into different roles. Who knows, maybe Anthony would be okay jacking spot-up threes off the bench for 15 to 17 minutes per game if it means he's likely getting a ring.