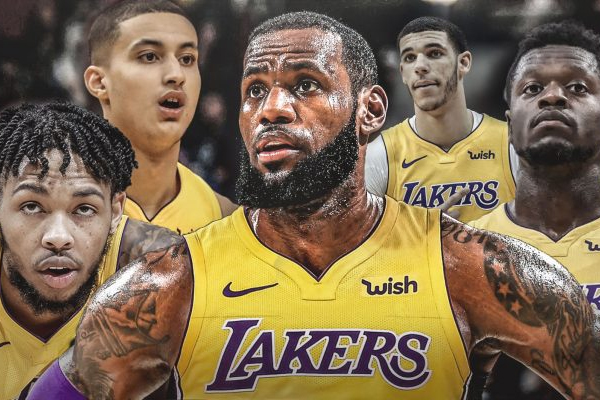 Since the Lakers signed one of the best players in the NBA in LeBron James, experts like Stephen A. Smith and hardcore Lakers fans alike have told us they will make the Western Conference Finals. I just laughed.
They have started the season 4-6 and sit 5 ½ games out of first place, and everyone in L.A. is acting like Chicken Little. Well, the sky isn't falling and neither are the Lakers. But they're not 'back' either.
They look about like they should. The Lakers spent four of the last five seasons near the bottom of the Western Conference. Last season the Lakers improved to 11th in the West, the same place they are now.
These Lakers will improve, even though without another all-star caliber player, it will not be significant improvement. The Lakers really need one or two other all-stars to compete in the West, but if Kyle Kuzma (19.0 ppg), Brandon Ingram (15.5 ppg), and Josh Hart (11.2 ppg) continue to improve, who's to say there's not a potential all-star or maybe two already on the Lakers' roster. The question is, will they improve before 33-year-old LeBron James' immense powers start to fade?
Kuzma needs to help the Lakers spread the floor by increasing his three-point shooting percentage from the 27.8% it sits at right now. Anytime you see Kuzma running the break with LeBron James, it is clear they are a Magic Johnson-Jamaal Wilkes type fit together, capable of scoring and shinning together.
Through 6 games, Ingram's numbers are down across the board, compared to last season, points, three-point percentage, rebounds and assists, so he and the coaches need to figure out how he fits alongside LeBron James. It doesn't look like a perfect fit so far. People have said they look redundant out there, and thus far that is hard to argue. Something Ingram should be able to offer these Lakers are three-point shooting and defense. If Ingram can make himself into a defensive specialist, that would really help the team.
Hart has shown some nice improvement from last season. His increases in scoring, steals, and three-point percentage are all positive signs. At times, Hart looks like he's been playing with James for years.
LeBron James is doing his thing, 26.8 ppg, 7.7 apg, 7.6 rpg, and 1.7 spg through 10 games.
When James joined the Heat, they started 9-8. When James re-joined the Cavaliers, they were 20-20 through their first 40 games. Historically, when James joins a new team, that team wins 53.1% of the time through their first 17 games.
Offensively, the team looks good and are currently 3rd in the league. Recent rule changes in the NBA have made it easier to score, but the Lakers give up 120 ppg, placing them 27th overall. That is just not going to get it done. JaVale McGee is leading the league in blocks, but he could use some help from his teammates to be there after he blocks a shot. Josh Hart is 10th in NBA steals, but the Lakers could use someone in the top four and then someone in the top 10.
These Lakers are in most games they play. If they can just upgrade their defense and figure out how to close games, we should see some real improvement. Great San Antonio Spurs Coach Gregg Popovich once said that "basketball is a game of mistakes," but the Lakers will need to cut down on 4th quarter mistakes, if they want to reach their potential.