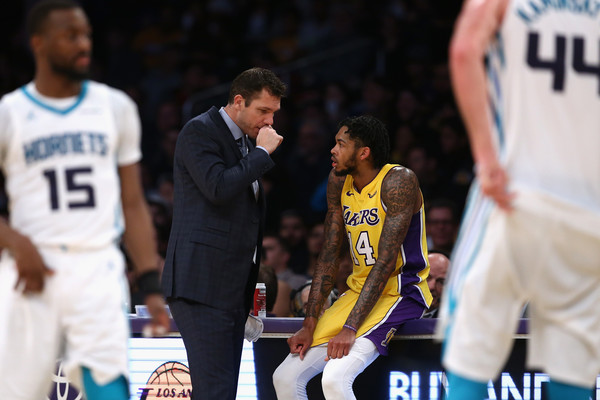 Despite a sluggish 2-5 start to the season, the Los Angeles Lakers aspire to be one of the NBA's 10 best defensive teams.
Or so says Luke Walton.
Here's what the Lakers' head coach had to say (h/t Silver Screen & Roll's Harrison Faigen):
"We have a goal to be a top-10 defensive team, which looks like a far, far, far away goal right now. But the Denver game we put up a nice defensive number. San Antonio we put up a decent defensive number. And I haven't looked at what it was in the three quarters (last night, but) take the first quarter out, I'm assuming our Minnesota game was good defensive game, so it's there, we just need to do it (for) longer stretches and more consistently."
This isn't groundbreaking stuff. Every team wants to find that balance between elite offense and defense. The Lakers, despite a lack of proven shooters, have something resembling an offensive mojo. They're seventh in points scored per 100 possessions, according to NBA.com.
Their defense is a different story. They're 23rd in points allowed per 100 possessions, which just isn't going to cut it in the Western Conference. Though they're not teeming with defensive talent, particularly in the size department, they have shown the potential to clamp down during crunch time, per NBA.com. But they're 1-5 through games that reach clutch situations, so waiting until late in the game to turn on the jets isn't enough.
Truth be told, the Lakers may need to set their sights lower. Fielding a top-10 defensive team with regular-season LeBron James playing more than 30 minutes per game has become exponentially difficult in recent years. And while they were much better on the less glamorous end last season, they're still depending on a bunch of players in the developmental stages of their career. Cobbling together great defensive performances with their type of roster balance just doesn't feel plausible.