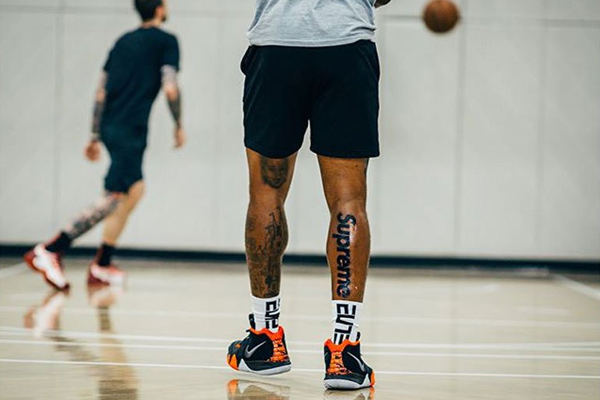 JR Smith was informed by the NBA that he will be fined on a per game basis if he doesn't cover the tattoo logo of New York-based streetwear company Supreme he got during the summer.
Smith went on Instagram to voice his displeasure:
J.R. is 100% covering it with Supreme high socks https://t.co/ZYUUN7w2uX

— Rob Perez (@World_Wide_Wob) September 29, 2018
According to Section H of the NBA rule book's extended comments section, "the only article bearing a commercial 'logo' which can be worn by players is their shoes." The Supreme logo would fall under this rule.
There is precedent for the league's actions. In 2013, the NBA made Iman Shumpert take out the Adidas logo shaved in his hair. In 2001, the NBA ruled that Rasheed Wallace could not wear a temporary corporate tattoo of a candy bar company during games.
However, tattoos have become far more common for NBA players and several players have had visible tattoos with brand logos without the league's intervention: Marcin Gortat has the Jordan Brand's "Jumpman" logo tattooed on his leg; Carmelo Anthony has the Warner Brothers' "WB" logo tattooed on his shoulder and Kyrie Irving has the logo for the NBC sitcom "Friends" tattooed on his hand, to name a few.
The Cavaliers open the 2018-19 season on Oct. 17 against the Raptors. Tune in to see if JR Smith has covered up.