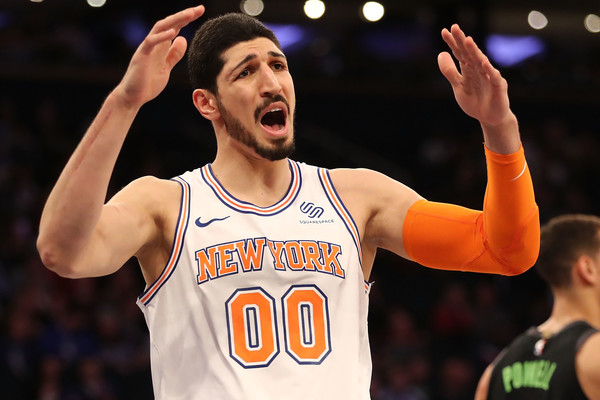 Enes Kanter has been relegated to the second unit by New York Knicks head coach David Fizdale, and while he's not being openly mutinous about the decision, he doesn't exactly seem thrilled with it.
From NorthJersey.com's Chris Iseman:
The usually outgoing and talkative Kanter gave short answers when he was asked about coming off the bench after Friday's blowout loss to the Warriors, saying he was just going to "lead the second unit."

Kanter gave a similar answer after the Knicks' practice Sunday when asked if he had discussed it with Fizdale.

"He wants me to lead the second unit," said Kanter, who started all 71 games he played last season. "That's what I'm going to do, go out there and lead the second unit. Just keep leading them."
This move was fairly inevitable. The Knicks are leaning into a youth movement—at least until 2019 free agency plays out. Enes, 26, doesn't factor into their big picture. He was always going to cede status at some point.
Plus, the Knicks' starting lineup cannot really afford to have both him and Tim Hardaway Jr. in it. They're defensive train wrecks. Watching them try to guard a pick-and-roll together is actual torture. Moving Kanter to the bench is a way of staggering their minutes while opening up opportunities for Mitchell Robinson and Noah Vonleh.
And who knows whether this is permanent. Until Kristaps Porzingis returns, everything in the frontcourt seems to be up in the air. Kanter could come off the bench for a few weeks only to return thereafter. We don't know. And to his credit, Fizdale did say he's handling the demotion well—which is good, because for better or worse, Kanter often seems to be the emotional heartbeat of the Knicks squad.