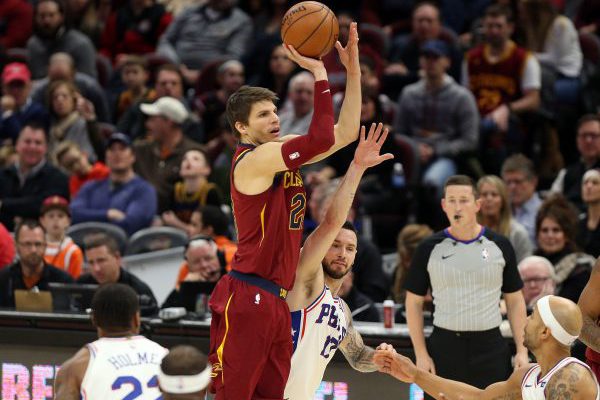 Kyle Korver may not be a member of the Cleveland Cavaliers much longer.
As the team scrambles to figure out a longer-term solution to fill the head-coach vacancy created by the firing of Tyronn Lue, it's also attempting to steer deeper into its youth movement by gauging Korver's market value, according to ESPN.com's Adrian Wojnarowski and Brian Windhorst:
Meanwhile, the Cavs have initiated testing the trade market for guard Kyle Korver in the past several days, sources said. There was some trade interest in Korver last summer, and the Cavs are circling back on those talks.

Two games into the season, Smith and Korver were told they would be out of the rotation, sources said. Then-coach Ty Lue reversed that decision and elected to reinsert them into the lineup. The team lost its next three games, and Lue was fired.

Korver remained in the rotation on Tuesday night but scored just three points in 15 minutes.
This was inevitable. Korver, who turns 38 in March, no longer fits the Cavaliers' timeline. Though they'll have the opportunity to waive him before next season for a hair over $3.4 million, it would make more sense to capitalize on his departure. The right contender might be willing to send them a second-round pick and some expiring salary to get Korver and his 45.5 percent success from three-point range.
Chances are Korver won't be the last Cavaliers player in the rumor mill. Pretty much all of their veterans should be on the chopping block. But Korver is one of the few on a reasonable contract. Everyone else, such as Tristan Thompson and JR Smith, will be tough to move without including sweeteners. If the Cavs show a willingness to take back long-term salary, keep an eye on George Hill. He's overpaid this year but guaranteed just $1 million next season, making him a valuable asset to teams looking for imminent cap relief.
Failing any trades, look for both Korver and Hill to become buyout candidates in the coming months.