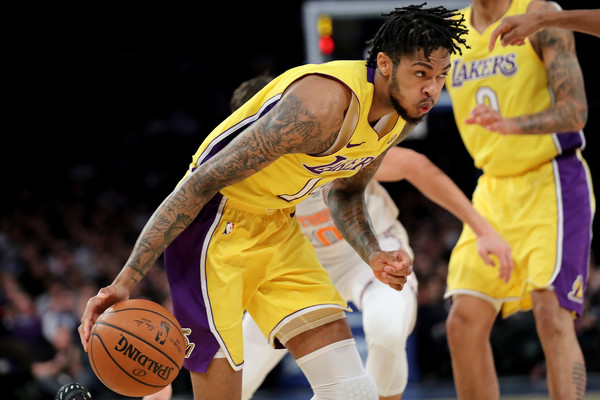 Brandon Ingram received a four-game suspension from the NBA for his role in the dustup that took place between the Houston Rockets and Los Angeles Lakers. He counts himself lucky for not incurring a longer exile.
As he told reporters, per Lakers Nation's Anthony Irwin:
"It's my full responsibility," Ingram told reporters. "I'm the one that caused the action and I take full responsibility for every action that I did 100 percent. I was wrong for my teammates but I also stepped up for my teammates and that's what I'm going to do ten times out of ten." . . .

"It was better than we expected," Ingram said. "I thought it would be more than that."
Brandon is correct here. He's absolutely lucky. Rajon Rondo, who received a three-game ban, is in the same boat. Looking at his history—namely hurling anti-gay slurs at referee Billy Kennedy in 2015—he just as easily could have received a more extensive punishment.
For this incident specifically, though, Ingram was most at fault. He let his frustrations boil over in the fourth quarter of Saturday's loss and pushed James Harden. That started the entire fracas.
Both Lonzo Ball and Lance Stephenson escorted Ingram past mid-court, seemingly away from the fray. Once Rondo and Chris Paul got into it, though, Ingram raced back and threw a punch of his own.
Granted, it seemed like both teams were on tilt all night. A scuffle may have been inevitable. But as the primary instigator of what they NBA was actually reviewing, Ingram most definitely could have earned more than a four-game suspension. Perhaps his track record for being mild-mannered on the court ended up doing him a massive solid.