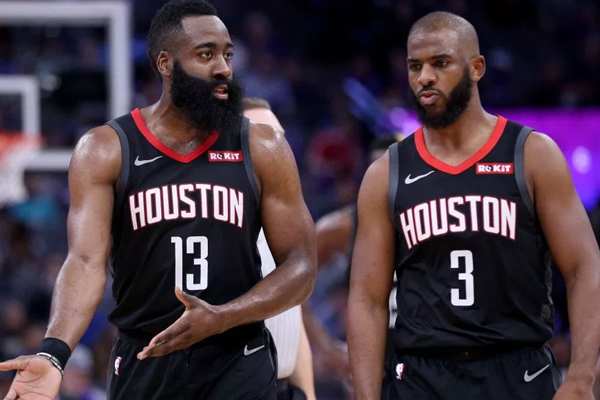 James Harden and Chris Paul appear to have reached a point of no return, with their relationship being described as "unsalvageable."
Yahoo Sports reported that Paul has already demanded a trade, and Harden also made it clear to the front office that the two can't coexist. Their relationship is beyond repair and the star players want a divorce.
According to Yahoo Sports, Paul went to the Rockets management and demanded a trade, and Harden issued a "him or me" edict following the Rockets' second-round loss to the Golden State Warriors.
Paul and Harden didn't speak for two months during the season and Harden hasn't returned Paul's repeated attempts at communicating this offseason.
"There's no respect at all, on either side," a source told Yahoo Sports. "They need to get away from one another. Chris doesn't respect James' standing in the league, and James doesn't respect the work Chris has put in to this point."

"It can't be fixed," another source told Goodwill.
But Rockets general manager Daryl Morey says Paul has never asked for a trade and denies any issues between the two All-Stars. In fact, Morey claims he and the pair have spoken together several times this offseason regarding the club's plans for free agency. Paul has also commented on the rumors on an Instagram post from Bleacher Report, writing "Damn! That's news to me…"
During the season, the players had a verbal exchange on the court which continued postgame. Harden has also been annoyed by Paul's personality and extended periods out of the lineup. As for Chris, he doesn't respect James standing in the league and James doesn't respect the work Chris has put in to this point.
But dealing Paul could prove to be difficult as he is owed more than $79 million over the next two seasons and has a $44-million player option for the 2022-23 season. He averaged 15.6 points, 8.2 assists, and 4.6 boards across 58 appearances this past season, marking his lowest scoring average since the 2010-11 season.