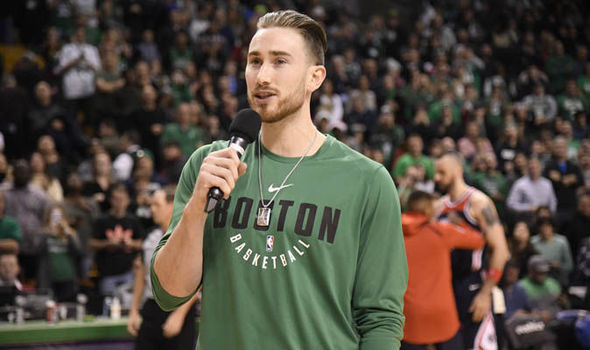 Every time a star decides to leave the team he was drafted by in free agency he is typically vilified by the fan base for a period of time.
Ever since "The Decision" in 2010 it has been en vogue for jilted fan bases to burn the player's jersey and generally say disrespectful things about them.
It was no different when Hayward left Utah for Boston last summer and one of those jilted jersey-burning fans said this…
"Goodbye, Gordon. Thanks for betraying us. Have fun being LeBron's little B-word."
Hayward had the perfect response while being interviewed by Barstool Sports:
He also took a not so subtle dig at Jazz Head Coach Quinn Snyder, praising Celtics coach Brad Stevens for being more logical and measured and not running players into the ground with 3 hour practices:
Mount Rushmore quality interview with @gordonhayward today. LISTEN HERE —-> https://t.co/hyFDGAlb6K pic.twitter.com/OPSrSDYGlX

— Pardon My Take (@PardonMyTake) September 26, 2018
"Just his personality. He wasn't going to scream at you or yell at you. He seemed pretty logical with how he did things, as far as practices were concerned. We're not going to run you into the ground for three hours, because you have to play this weekend, and then I also want you to be good in March, too, which I thought was pretty cool.
Hayward definitely guaranteed his villain status in Utah for a few more years at least. While losing him for nothing was obviously a big blow to the Jazz. they were just as good or better without him last season with the emergence of 2017 1st round pick and budding superstar Donovan Mitchell.