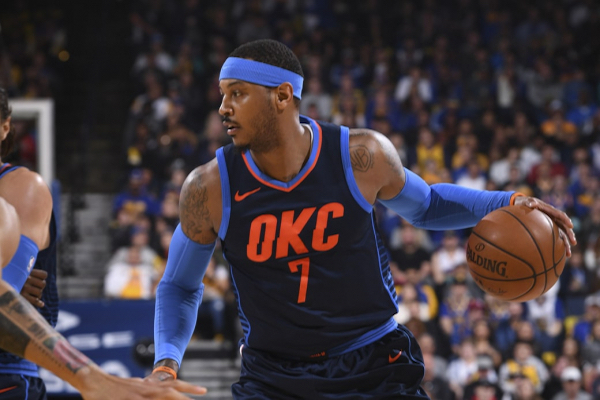 Carmelo Anthony is an official member of the Houston Rockets. Finally. And it seems as if his role could be different than most would've initially envisioned.
Pretty much everyone and their third cousin twice removed by divorce assumed Anthony would join the Rockets' starting five, and he still might. But there seems to be at least a shiver of a chance he'll come off the bench and run the second unit.
Here's ESPN.com's Adrian Wojnarowski:
Anthony will have a chance to compete for a starting spot in training camp, but could ultimately come off the bench based on what Rockets coach Mike D'Antoni decides is best for the team.
And here's what Mike D'Antoni told USA Today's Sam Amick when pressed about the subject:
Q: People assume that when you lose Trevor (Ariza in free agency to Phoenix), and you have someone with 'Melo's resume at that spot, you slide him into the starting job. But you have options there. How do you see the rotation?

A: "I don't know, and that's something that we'll have to work out. All I know is that we'll try different combos — preseason, early season, and the good thing is that with analytics and with gut feelings and coaches and players, we'll figure out what is the best way to play. And again, if everybody is on board, then it'll be, 'Hey, this is where we're the best. This is how we can win the championship.' I don't know yet, but we'll make sure we get it right as good as we can."
Bringing Anthony off the bench isn't some magic panacea for all the potential warts. His fit with the Rockets could still end up being weird. But it would make it easier for them to hide him on defense and allocate a higher amount of on-ball touches for him, since he wouldn't be playing with James Harden as much.
Really, though, getting him to come off the bench is a huge vote in favor of the Rockets' culture. Melo wasn't interested in running the second unit with the Oklahoma City Thunder. He made that much clear during his exit interview. To change course in Houston would say a great deal about the Rockets, what they've built, and how easy it may ultimately be for them to integrate Melo.