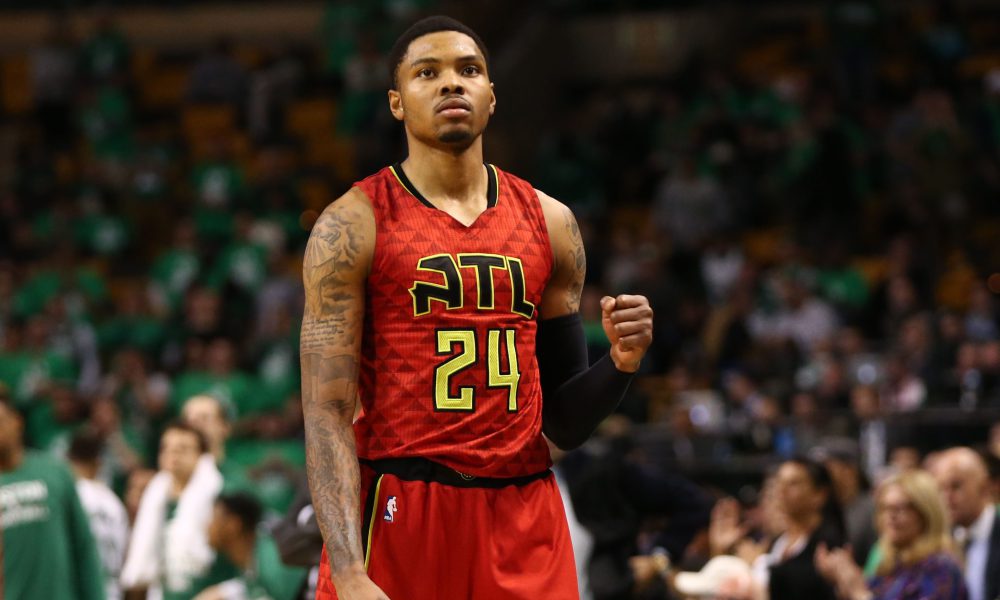 Kent Bazemore doesn't necessarily want to be traded from the Atlanta Hawks, but if he has to go, the Houston Rockets and Milwaukee Bucks are at the top of his wish list.
Here's the latest from Rockets Wire's Kelly Iko:
Source: Kent Bazemore's list of suitors also includes Milwaukee, who recently contacted the Hawks but initial trade talks didn't get very far. Kent loves Atlanta, but would be open to a move to HOU/MIL since he knows both coaches well and would be joining a contender.

Bazemore thinks he could put either team in championship contention if ATL went that route. Good shooter, low usage rate, multi-positional defender, locker room presence. Almost an exact Ariza replacement.

Source: Atlanta would be open to taking Ryan Anderson's remaining $41 million back, but would need draft pick + one of Houston's young guys. A package of Anderson, Melton and a 2019 first might be enough to get a deal done, but Houston is high on Melton and his upside.
Bazemore's own line of thinking makes sense. He played for Rockets coach Mike D'Antoni with the Los Angeles Lakers, and he experienced some of his best seasons as a pro while Mike Budenholzer, now with the Bucks, guided the Hawks.
The Bucks are the more interesting fit on paper. They need additional shooting around Giannis Antetokounmpo, and Bazemore canned 42 percent of his catch-and-shoot threes last season, according to NBA.com. They sometimes look like they have enough wings, but 1) there's no such thing in today's league, and 2) Bazemore is more playable than Matthew Dellavedova, isn't as tactically shy on offense as Tony Snell and is far more experienced than either Sterling Brown or Donte DiVincenzo. Plus, having Bazemore, who is owed around $37.4 million over the next two years, would be a nice hedge against the 2019 free-agency plans and potential cost of Eric Bledsoe, Malcolm Brogdon and Khris Middleton.
Houston, of course, more than works. But giving up both De'Anthony Melton and a future first is a steep price to pay for someone who only takes home about $4 million less than Ryan Anderson through next season. The Hawks would need to throw in something tiny or allow the Rockets to keep Melton.