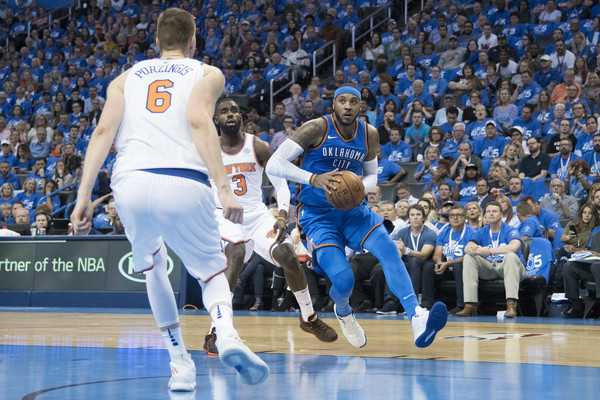 Well, that didn't last long.
Though it initially appeared Carmelo Anthony might be open to coming off the Houston Rockets' bench, he pumped the brakes on that talk while speaking with TMZ Sports:
Carmelo Anthony wants all the talk of him coming off the bench for the Houston Rockets to slooooow down … with the NBA superstar telling TMZ Sports, "Let's just let it play out!" . . .

Carmelo ain't so sure about all that, though … telling us, "I just signed, let it start first!"
To be fair, Anthony has a point. He only just joined up with the Rockets. It feels like longer, because speculation persisted for weeks, if not months, but he's been an official member of the team for just a couple of days.
It's not like the Rockets have gotten a chance to see how their pieces fit together, either. Training camps do not open for another few weeks. Head coach Mike D'Antoni and his crew will need time to figure things out and see how different combinations fare before coming to a concrete decision. And while it would behoove Melo to at least consider accepting a role within the second unit, he doesn't technically have to enter training camp with that mindset.
On the bright side, though, it does seem as if he's more open to thinking about the prospect in Houston than he was with the Oklahoma City Thunder. Coming off the bench was a non-starter for him last season. His response here is more open-ended—which, regardless of what happens, should bode fairly well for the Rockets.