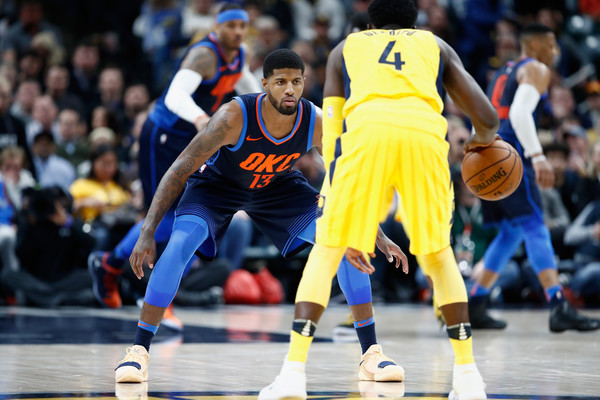 Paul George now bleeds all things Oklahoma City.
This might have been implied by him re-signing with the Thunder on a four-year deal (player option after Year 3) before free agency ever officially started. Everything from the timing to the structure of the contract—a two-plus-one would have made more sense if this were a purely financial decision—made it seem like George was always all-in on Oklahoma City.
Still, his connection to Los Angeles and the Lakers looms. Why didn't he give them a meeting? Was he even kind of attracted to the idea of playing for them?
As it turns out, yes, George was slightly enamored with the concept of going home. But the Thunder, in his eyes, were not a team he could leave. As he said at Team USA's minicamp in Las Vegas, per ESPN.com's Marc J. Spears:
So why didn't George give the Lakers a meeting in free agency?

"It was absolutely tempting," George said. "Honestly, I wanted to come back home. But again, I got traded to Oklahoma. Loved the situation. Loved where I was at. I decided to stick around a little longer. …

"I just wanted my free agency to be over with. In my heart, I felt great about Oklahoma and I wasn't going to prolong it if I felt good about it already."
You know how you know George is telling the truth? Because he is still singing Oklahoma City's praises even after the acquisition of the enigmatic, oft-erratic Dennis Schroder. So while he may have at one time been a Hollywood man, he's now all about that OKC life. And the Thunder should be glad he is. Re-signing him as allowed them to stave off some awkward questions about Russell Westbrook's future and whether they should steer into a full-on rebuild.