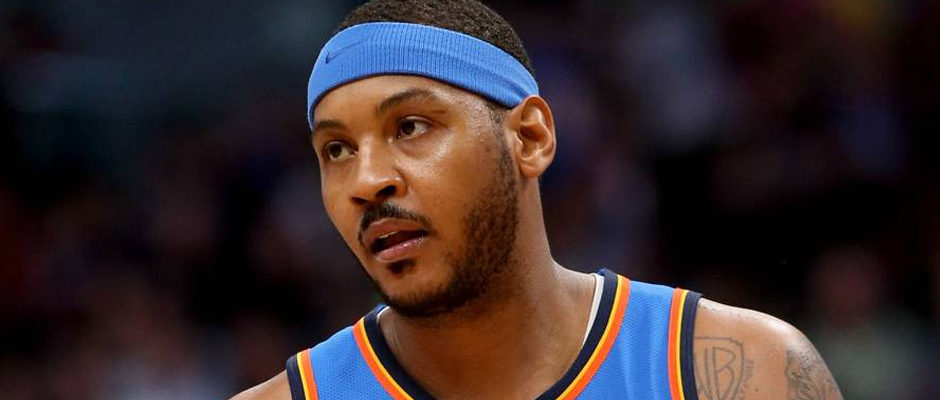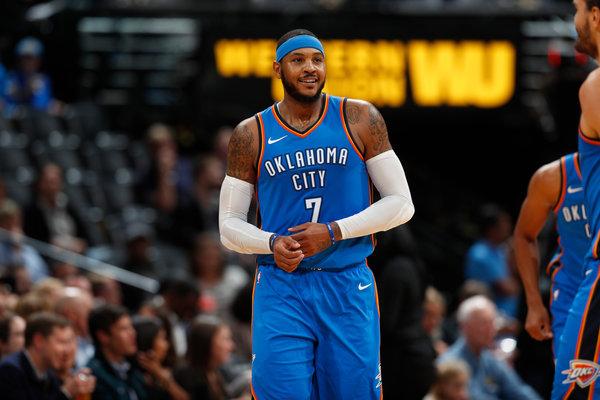 The Carmelo Anthony sweepstakes are heating up…kind of.
Though the Oklahoma City Thunder have yet to officially part ways with their overpriced and unhappy forward, more than a few teams are already vying to become his next landing spot. The Houston Rockets appear to be the early frontrunners, because, well, they've been circling Anthony since he was a free agent in 2014. And also because Anthony was spotted with a Rockets contingent at summer league, per ESPN.com's Dave McMenamin:
Carmelo Anthony's business manager, Bay Frazier, spent much of the first half of the Rockets-Warriors summer league game here in Vegas tonight sitting with a HOU contingent of Mike D'Antoni, Chris Paul, Tillman Fertitta and John Lucas II

— Dave McMenamin (@mcten) July 9, 2018
This could be nothing. Apparently, though, it could also be significant. According to The Ringer's Kevin O'Connor, some NBA execs view the Rockets as outright favorites to land Melo, with the Los Angeles Lakers, Miami Heat and Philadelphia 76ers all looming:
Interesting. NBA execs largely consider Houston the favorite for Carmelo Anthony. Also have heard Lakers, Heat, and Sixers mentioned. I bet it'll be the Rockets though. https://t.co/hHciV6PWvx

— Kevin O'Connor (@KevinOConnorNBA) July 9, 2018
The Lakers and Rockets immediately stand out because they employ LeBron James and Chris Paul, respectively. Melo needs to end up somewhere not only alongside players he respects, but friends he is more likely to acquiesce to. That didn't turn out so well in Oklahoma City, beside Paul George and Russell Westbrook. He shouldn't have as much of a problem shape-shifting his game to work alongside James or Paul. He may, in fact, seize the opportunity to fire standstill treys, make cuts to the basket and even be used as the roll man if they're the ones tossing him passes.
The Rockets arguably need him more, too. They already lost Trevor Ariza to the Phoenix Suns and have yet to hash out an agreement with Luc Mbah a Moute. Melo doesn't begin to replace any of the squandered defensive value, but he is, in theory, a more dynamic power forward option than Ryan Anderson.
Indeed, the Lakers could probably use him as well. They're light on established talent even after landing James. But they're not within close proximity to the Golden State Warriors. They have more developmental curves to indulge amongst their kids. The Rockets are more about chasing the Warriors now.