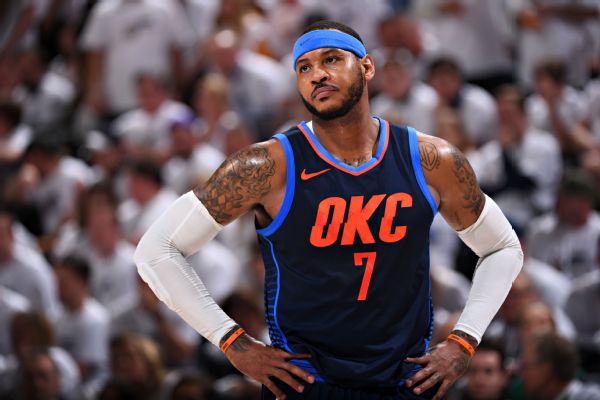 A real shocker here: Carmelo Anthony does not sound like he's willing to come off the bench for the Houston Rockets. Not yet anyway.
Chew on this excerpt from Jemele Hill's fantastic piece for The Undefeated:
One of the moments that stood out from the Thunder's tumultuous season was Anthony laughing when he was asked if he'd ever consider coming off the bench. For some, that was just the latest evidence of Melo's selfishness.

But Pissed Off Melo has a message for you.

"I know how to play this game of basketball," he said. "I've been playing it for a long time. When I feel like I'm ready to take that role, then I'll take that role. Only I know when it's best for me to take that role. I'm not going to do that in a situation where I still know my capabilities and what I can do. And at the end of the day, the people who really matter know my capabilities and what I can still do. You start getting to the media and debates, it's going to always be kind of back-and-forth."
Talk about the non-surprise of the century. We have long known about Anthony's aversion to coming off the bench. He still fancies himself a star. That's fine. It's not true, but it's fine. Professional athletes have egos. That's why they're able to perform at the level they do and on the stage they do.
It will, however, be interesting to see whether Anthony changes his tune. Could Chris Paul convince him to just eat with the second unit? Might the Rockets consider starting him, yanking him after three minutes and having him headline bench mobs? Is Houston even committed to having him close games, regardless of whether he's starting or coming off the bench?
The latter issue should be of more importance to Anthony. It doesn't really matter who begins the games. Finishing the close ones is a bigger deal. How the Rockets handle his fit, both to start games and to close them, will be fascinating.