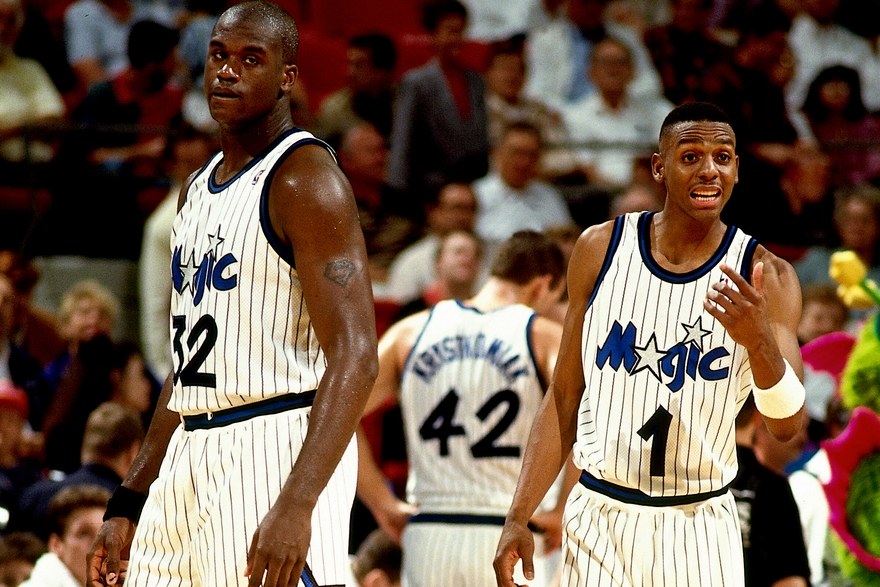 Every once in a while, NBA Hall of Famer Shaquille O'Neal laments what could have been had he never left the Orlando Magic, or had he stayed with Kobe Bryant on the Los Angeles Lakers. And during a recent conversation with CBS Sports' Reid Forgrave, it was Orlando's turn on his carousel of nostalgia.
Apparently, and not surprisingly, The Big Aristotle believes he and Penny Hardaway would have eventually led the Magic to at least one NBA title if he didn't bolt for Los Angeles. Here are his full comments, courtesy of CBS Sports' Chris Barnewell:
"All I was thinking was [we were] the new Magic and the new Kareem. When we played together it was awesome. He was Kobe before Kobe. So I think if we had stayed together we definitely would have gotten one. Maybe two."
The new Magic Johnson and Kareem Abdul-Jabbar? Not that's a pretty lofty bar.
To Shaq's credit, he and Hardaway did earn a trip to the 1994 NBA Finals, where they were swept by the eventual champion Houston Rockets. It stands to reason the Magic would have returned in the years to come.
Or, actually, maybe not.
Getting an NBA title might've been tough. Hardaway remained in Orlando for another five seasons, but battled injuries during two of them. He and O'Neal would've been working with, at best, a three-year window in which to win—one that would have pit them against some combination of those Rockets (1995), Michael Jordan's Chicago Bulls (1996, 1997, 1998) and they dynastic San Antonio Spurs (1999).
Would that Magic core, with Shaq and Penny, have been able to beat any one of those outfits? It's tough to say. But it sure as hell would've been fun to watch them try.