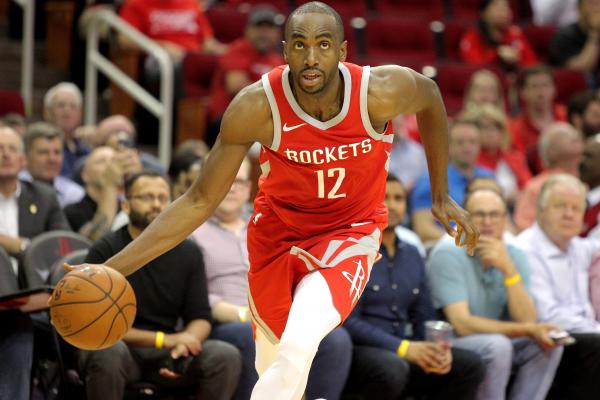 The Houston Rockets will not be entering the NBA playoffs unscathed.
No team will, really, The push and pull and grind of an 82-game season always takes its toll. Many players aren't beginning the postseason at 100 percent, or even at something close to 100 percent.
But Luc Mbah a Moute won't be beginning the playoffs at all. Not yet anyway. He's out through at least the first round after suffering a dislocated shoulder during Houston's Tuesday night win over the Los Angeles Lakers, according to ESPN.com's Adrian Wojnarowski:
After MRI this morning, Houston's Luc Mbah A Moute is likely to miss first-round of playoffs with dislocated right shoulder, league source tells ESPN. For now, there's no clear timetable on return.

— Adrian Wojnarowski (@wojespn) April 11, 2018
Don't make the mistake of thinking this doesn't matter. It sure as hell does.
Mbah a Moute isn't James Harden or Chris Paul. And the Rockets retain switchability on the wings with Trevor Ariza, PJ Tucker and, to a lesser extent, Gerald Green. But Mbah a Moute's absence will matter. He can essentially defend positions 1 through 4 and has shown an increased ability to finish off the dribble this season. His shooting in the playoffs has been historically bad, but his defense alone is enough to keep him on the floor—particularly when he lines up beside Harden and Paul.
Ahem:
Houston when Chris Paul and James Harden play with:

Tucker (1,205 possessions): +9.4 Net RTG

Ariza (1,294 poss): +10.9 Net RTG

Capela (1,483 poss): +11.3 Net RTG

Mbah a Moute (572 poss): +28.0 Net RTG

the Rockets will probably be fine, but this matters.

(?@cleantheglass) https://t.co/MKkZIu1ZnY

— Dan Favale (@danfavale) April 11, 2018
The Rockets will be fine—through the first round anyway. This doesn't make their job that much more difficult, unless they draw a bad initial pull. But the Denver Nuggets, and their offensive firepower, are actually their biggest concern when being down a premier perimeter pest. And the Nuggets cannot even earn the No. 8 seed, assuming they make the playoffs at all. The Oklahoma City Thunder would be a tough draw as well.
This injury, though, is more so something to monitor in later rounds. If Mbah a Moute isn't ready to rock in the second round or by the Western Conference Finals, the Rockets could really start to feel his absence—especially if they, as expected, wind up squaring off with the Golden State Warriors.