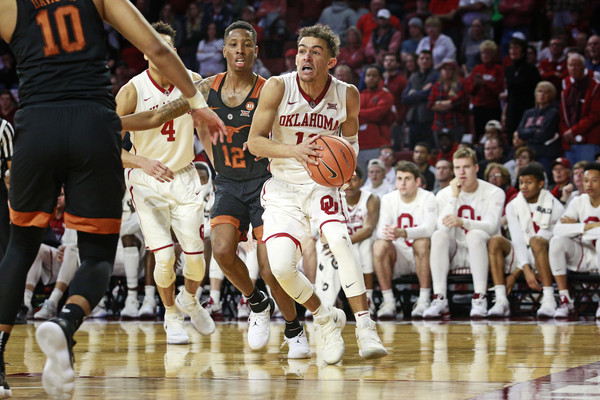 Congratulations, New York Knicks fans! One of this year's top NBA draft prospects wants to play for your team.
Oklahoma's Trae Young, who just recently declared for June's prospect pageant, was asked by First Take's Stephen A. Smith whether he'd be interested in joining the Knicks. His answer, brought to us by Bycycle's Thomas Duffy, will make a select few hearts melt:
Trae Young says on @FirstTake it'd be a "blessing" to play for the Knicks.

Thinks all the media coverage he got this year prepared him. pic.twitter.com/F49iR02sNZ

— Thomas Duffy (@TJDhoops) March 21, 2018
Here's ESPN.com's Ian Begley with the transcription of Young's response:
Oklahoma's Trae Young was asked about potentially playing for the Knicks during an interview on First Take. He said it would be a "blessing" and that he'd "get to work and help that franchise win" if drafted by NYK (thanks @TJDhoops) pic.twitter.com/SDT3voG7y3

— Ian Begley (@IanBegley) March 21, 2018
This is typical pre-draft prospect-speak. Very rarely do inbound players speak out against lottery teams who are in position to select them. Even when they do, it's seldom public. All that stuff typically happens behind the scenes.
In Young's case, his stock has fallen over the past few weeks. He's not really in any position to steer himself to one team or another. He'll be happy just to go inside the top 10.
If the draft were today, the Knicks would be ticketed to pick ninth overall. That's right up Young's alley. Most mocks have him going somewhere between seventh and ninth at this point. And after just missing the boat on Stephen Curry in 2009, it will be tough for the Knicks to pass on Young, who many view as Steph's toned-down incarnate, if he were still on the board.
Then again, New York has enough guards in its employ. Frank Ntilikina and Tim Hardaway Jr. are supposed to be building blocks. Courtney Lee doesn't fit the team's timeline and can play some 3, but he's best suited at the 2. And the Knicks continue to work through their Trey Burke and Emmanuel Mudiay experiments.
Adding another guard to that mix makes for a complicated dynamic—especially when it's a ball-dominant name. Ntilikina and Young would be able to play off one another in theory, and the Knicks could probably even get away with stashing Hardaway at the 3 beside that pairing. But they'd have to start moving around some of their other backcourt pieces for it to make sense.
Otherwise, based on their current depth chart and draft position, the Knicks will be better served targeting inbound wings like Mikal Bridges and Kevin Knox over a point guard—even if that point guard is Young.